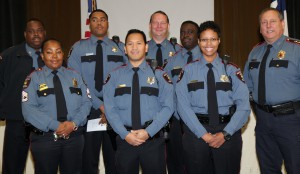 The Houston Independent School District Police Department welcomed five new police officers to its family and promoted one of its own to the rank of sergeant on Monday.
Family members, friends and fellow law enforcement officers gathered at HISD police headquarters to celebrate the addition to the nation's only accredited public school district police department.
"I expect everything that you do to be right and honest, and to be very open and straight forward from here on," Chief of Police Robert Mock told the group. "We've put you through a lot of tests, rigor and trials, and each of you have succeeded to make it to this point of joining our family."
Each officer was sworn in with an audience of about 50 family members, friends and law enforcement colleagues in attendance. U.S. Army Iraq War veteran and volunteer firefighter Christopher Castacio told the audience he joined HISD PD because he wants to help people and be involved more in the community.
"I want to protect the kids and future the way I've always protected my kids and family away from bad influences," said Castacio. "I want to give back to this community and nation because this country gave my family a chance to have a better life."
Along with Castacio, four other class members joined the department as police officers: Keith Harris, Kriston O'Neal, Thomas Ross and Laurenette Wilson. Officer Mercedes Martinez-Lopez was promoted to the rank of sergeant.
"We're going to impose a great responsibility in all of you to look after the welfare of our students and staff at HISD to provide a safe environment for learning," Mock said.