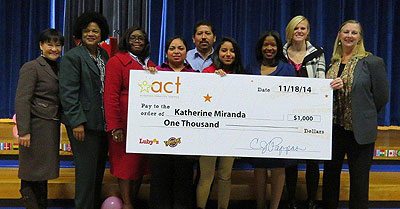 SIS eighth-grader Katherine Miranda named first 2014 winner in Luby's ACT program
Luby's has been rewarding good behavior in HISD middle school students through its ACT Program (Achieving Character Together) program since 2008, and this year, the first student to be recognized with a silver award came from Sharpstown International School.
Eighth-grader Katherine Miranda was nominated by her coach, Tiffany Sevier, for demonstrating outstanding character both on and off the volleyball court. "Katherine's greatest gift is respect for herself and others," said Sevier, who noted that her student regularly encourages teammates and cheers them on during games. "I don't think Katherine is even aware of the great impact she has on her peers."
As the silver winner for the first six-week period, Katherine received $1,000, a mini-iPod, and a Luby's gift card during a special presentation on campus Nov. 18. "I can't believe anyone would choose me," she said.
Every six weeks, Luby's picks one silver award winner from among the bronze award winners, which are selected at every participating middle school campus for demonstrating outstanding character values such as respect, commitment, self-discipline, loyalty, punctuality, and adherence to dress code.
For more information, or to nominate a student, please visit the ACT website.