Volunteer to read with an HISD first-grader in person or virtually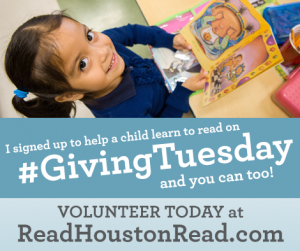 Would you like to volunteer for Read Houston Read?
Sign up for Read Houston Read by clicking here. Show your support by downloading the attached badge and add it to your Facebook page or share it on Twitter.
Download Badge (.jpg)
It's the time of year to give back, and as part of the national "Giving Tuesday" movement, HISD is asking Houstonians to sign up for Read Houston Read and give a struggling student some of their time—listening, caring, and sharing the joy of reading.
This year, Giving Tuesday, a national day of giving that encourages Americans to donate to a charitable organization, falls on Tuesday, Dec. 2. HISD is encouraging folks to spend a few moments of their time that day signing up to be a volunteer at www.readhoustonread.com. As part of the program, volunteers spend half an hour to an hour each week—either in person or virtually—mentoring a child and listening to them read aloud.
HISD is encouraging local businesses and corporations, as well as their central office employees, to sign up for the program. Many, like HISD Senior Executive Secretary Fatima Barnett, have already started mentoring students.
"My best memory so far has been providing new books to one of my students," Barnett said. "He whispered to me shyly that he liked reading and that he had a new baby sister. I asked him if he reads to her, and he told me that he doesn't have any books at home. I promised him that I would bring him some books to take home. When I returned the following week with three books I had bought for him, his eyes lit up. He smiled and spoke a little louder when he said, 'Can we read the books that you bought for me?'
"Filled with emotion, I told him, 'Of course we can.'"
[su_vimeo url="https://vimeo.com/112221757″  responsive="no"]