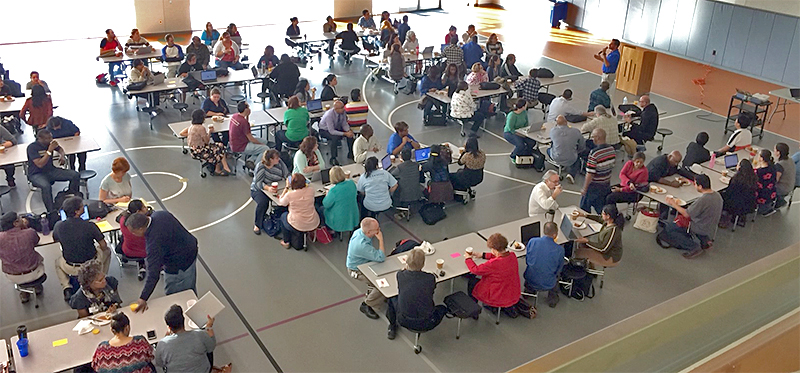 Nearly 150 teachers from across the district packed Carnegie High School on a recent Saturday to attend a half-day training with educators from the Mooresville Graded School District in Mooresville, North Carolina. HISD has partnered with Mooresville to help train and offer professional development to HISD high school teachers involved in PowerUp, the district's digital transformation effort that includes distributing laptops to every high school student.
Mooresville has one of the most successful one-to-one programs in the country and is partnering with HISD to offer guidance and best practices. Principals, teachers, and administrators from HISD last month traveled to North Carolina to see Mooresville teachers in action. Then, on Dec. 6, Mooresville educators visited Houston to deliver a workshop and hands-on training on the effective use of technology for instruction. The workshop was expected to attract around 50 people, but nearly 150 teachers, campus instructional technologists, and school leaders packed into the Carnegie Vanguard auditorium.
"Spending time with the teachers from Mooresville and learning from their experience has been amazing," said Westbury High School social studies teacher Ty Wall, who attended the training at Carnegie and traveled to North Carolina in November. Wall's students at Westbury won't get their laptops until January, but he has been using laptop carts to incorporate some of the techniques and instructional practices he has learned over the past several months into his lesson plans.
"Seeing the Mooresville teachers in action using different tools and techniques really caused a light bulb to go off inside me and has made me re-evaluate the way I deliver instruction," said Wall.
More than 18,000 laptops will be distributed to students at 14 HISD highs schools, including Westbury, this coming January in phase two of the district's one-to-one program.