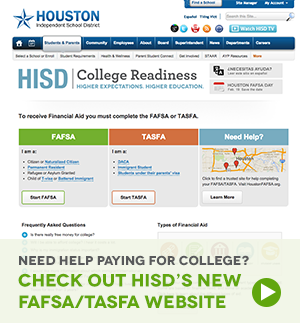 It's not too late to apply for free financial aid from the federal government
HISD high schools across the district hosted HISD's second-annual FAFSA Day on Thurs., Feb. 19. Administrators, staff, and volunteers were on hand at 22 area schools to assist students and their parents complete the application accurately and on time.
HISD partnered with Neighborhood Centers, which provided volunteers to help parents file their income tax returns. The family's financial information is used to calculate the "Expected Family Contribution," a key factor in the assessment of how much each family is expected to contribute and how much financial aid they will receive. Once students had their parents' finalized tax information, they could get assistance with their FAFSA (Free Application for Federal Student Aid) application at the same location.
"I came here to do my taxes, so I would be able to file my FAFSA for college," said Sharpstown senior Preston Seymore. "After I graduate, I'm going to HCC to get my fire and EMT training. This is a wonderful thing, and I recommend that every school have a group of people come out and help students like this."
Undocumented students are also eligible to receive state aid, but they will need to fill out the TASFA (Texas Application for State Financial Aid), which was created for students who do not have a Social Security number and are not eligible for federal student aid. See Houston FAFSA, a communitywide effort to help high school seniors and their families, for more information.
"Completing the FAFSA is an important step in ensuring college enrollment among our students," said David Johnston, director of the HISD College Readiness Team. "In fact, seniors who complete the FAFSA are 90 percent more likely to attend college than those who don't."
Once students have completed the FAFSA or TASFA application, the colleges they have applied to AND received acceptance letters from will begin to put together a financial aid package for them.
"Deadlines for financial aid vary from school to school, so unfortunately there's not really a hard deadline," said College Readiness Specialist Derick Hutchinson. "It really depends on the school the student is going to as to the deadline. But students should always apply for FAFSA before the priority deadline to ensure that it is processed in time for the start of the fall semester."
For most colleges, the FAFSA priority deadline is March 15, 2015. Although students can apply anytime, grant funding is limited, and colleges cannot guarantee their financial aid award will be processed by the start of the fall semester.
There are thousands of college scholarships out there, but the U.S. government is by far the largest provider of student financial aid. FAFSA gives students access to $150 billion in grants, loans, and work-study funds.
For questions, please contact your high school campus or the HISD College Readiness Dept. at 713-556-7196. Be sure to visit the HISD FAFSA/TAFSA website here.
[su_youtube_advanced url="https://www.youtube.com/watch?v=zsUzihI9Atw"]