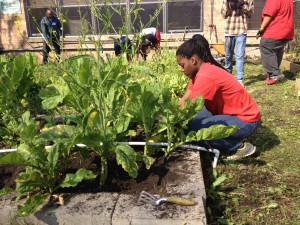 Yates High School students in the School of Communications conducted their annual spring gardening event recently in order to bring attention to food deserts such as Houston's Third Ward. Many areas of Houston have relatively few grocery stores, making the choices for nutritious food in short supply.
The garden raises awareness of good nutrition and healthy lifestyles, all of which play a vital role in helping students improve their academic endeavors. The Yates students picked vegetables and juiced them for the rest of the student body.
Media students documented the event on video in order to create a follow-up documentary. The event is a project of Yates media instructor Omar Peters.