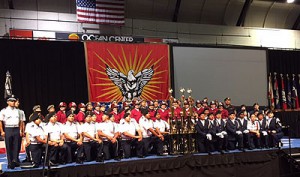 It took the Rough Riders almost 50 years to do it, but on May 4, 2015, they finally succeeding in winning the top prize in a division of the National High School Drill Team Championships, which take place every year in Daytona Beach, Fla.
The Rough Riders are members of the Reagan High School Junior Reserve Officer Training Corps' army unit, and they were named the national champions this year at the Masters Level of the Mixed Arms Division—a first for Reagan High School and a first for any high school from the Houston area. 
The Reagan team also earned first-place laurels in the Mixed Squad Exhibition and Mixed Platoon Exhibition categories, as well as five other top-level prizes (see the full results here).
But the victory was especially sweet this year because the Rough Riders wrested the national crown away from the longtime champions. The Lady Leathernecks at Fern Creek Traditional High School in Louisville, Kentucky, have held the title in that division for the past 14 years.
"These cadets were at school before other students arrived and stayed late every day to practice and to perfect their skills," said Reagan HS JROTC First Sergeant Michael Anderson. "They even dedicated weekends to prepare for the competition. Winning the national championship is the pinnacle of years of dedication, practice, commitment, and striving to be the best that they can be."
"It is a great honor to have the Rough Riders bring home a national championship trophy to Reagan High School, HISD, and the City of Houston," added Lieutenant Colonel Brian Lynch.
More than 30 cadets from Reagan competed at the event this year. The Reagan High School JROTC was established in 1926 but did not become an official JROTC program until October 7, 1966.