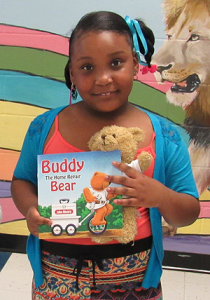 John Moore Services is observing its 50th anniversary in Houston this year, and to celebrate, the company gave away 250 books and teddy bears on May 15 to students at HISD's Marshall Elementary School.
The books were written and illustrated by a local artist, and tell the story of "Buddy the Home Repair Bear," who learns he doesn't have to be a star athlete to be a hero in his own right.
"We are so grateful to John Moore Services for this generous gesture," said Principal Hilarion Martinez. "I particularly like the book's message — that people who come through for their friends are heroes, too."
"We want to support literacy in our community by giving back to children who may not always have the privilege of getting their own book and toy," added a John Moore Services representative.