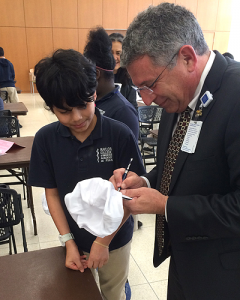 Sixth-graders from the Baylor College of Medicine Academy at Ryan got a big treat during the last week of regular school.
They made a visit to the Baylor campus, where they listened to a speech given by Dr. Kenneth Mattox, asked questions of a panel of medical students, watched an anatomy presentation, and took a tour of the Michael E. DeBakey Museum and Library.
Dr. Paul Klotman, the president and CEO of Baylor, took time out of his day to greet the students, one of whom asked for his autograph (pictured).