About 200 law enforcement officials are now more equipped to address school safety and security
issues across Houston area schools, thanks to the 2015 Texas School-Based Law Enforcement Summit series held June 7-9 at Westside High School.
The event, hosted by Houston Independent School District Police Department, is a part of the Institute for Criminal Justice Studies program of the Texas School Safety Center at Texas State University.
Police officers from HISD PD, Houston Police Department, Alief ISD, Humble ISD, Pearland ISD,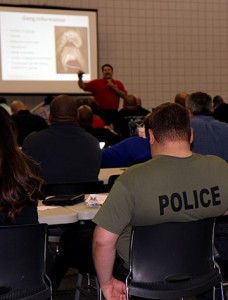 Cypress-Fairbanks ISD and Memorial City Village Police Department trained on a range of school-based law enforcement issues at both the K-12 and higher education levels.
During the three day event, top law enforcement experts instructed on topics such as gang intervention, anti-bullying, juvenile law and school-based law enforcement policies .
"This is our department's first time assisting with hosting the event," said HISD PD Sgt. Sabrina Naulings. "The SBLE Summit helps police officers in general to understand the school-based mindset."
While local law agencies focus on a broad of range of incidents within the community, the SBLE Summit aims to show officers the best methods to use for campus policing, including how to write school citations, crime detection and prevention.
Naulings said the training is beneficial not only to HISD PD and surrounding school district police departments, but also city and county agencies who have gained a better understanding to address campus-based issues.
"Although we are a school-based police department, we deal with the same thing as any other agency, except our main focus is the kids and providing a safe, learning environment for them," Naulings said.
The Texas School Safety Center at Texas State University will offer several additional School-Based Law Enforcement sessions throughout the state for any law enforcement officer interested. To register for an upcoming summit or view the calendar dates, visit https://txssc.txstate.edu/events/.