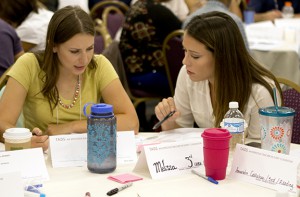 Part pep rally, part teacher development, the district's 2015 edition of the New Teacher Academy kicked off on Aug. 5 with hundreds of enthusiastic educators soaking up HISD culture and information at the Kingdom Builders' Center.
The annual event is designed to introduce new HISD teachers to the district, connect them with resources they'll need throughout the year, and provide professional development opportunities geared toward helping them hit the ground running on the first day of school. This year, more than 1,500 teachers registered to attend.
Autumn Winsett, who is starting her first year at Emerson Elementary, was impressed with the variety of break-out sessions offered. "I wasn't expecting that many (professional development) choices," she said.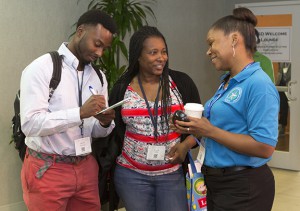 Gail McGee, a manager for Professional Support and Development, said the amount of energy and resources that go into planning and executing New Teacher Academy pays off.
"Once the school year starts and life is crazy, teachers don't necessarily have the time to find those resources or support," McGee said. "You need to know where to go immediately. We're building awareness, so they walk away with the resources they need. We want new teachers to get a feel for what Team HISD is all about, and equipped to be successful from Day One."
The kick-off event – which is organized by the Onboarding & Organizational Development and the Professional Support and Development departments – also serves as the unofficial countdown to the first day of classes on Aug 24.