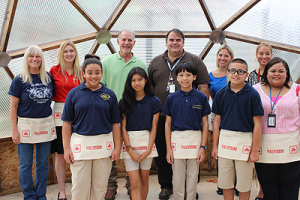 Students at HISD's Rusk School will soon be growing organic food for local charities, after the campus completed construction on a geodesic-dome-shaped, solar-powered greenhouse funded by a $25,000 grant from the State Farm Youth Advisory Board.
The school won the grant in 2012 through the organization's "Cause An Effect" program (later re-named "Neighborhood Assist"), an online contest that generates votes for local causes through social media. A student panel chose 100 finalists from a field of 3,000 entries, and voters on State Farm's Facebook page chose the top 40 winners.
Rusk students, faculty, and other staff celebrated the formal opening of the new greenhouse on campus with a ribbon-cutting ceremony held Oct. 23.
"This project will allow our students to help others in the community in a positive way," said teacher Brenda Boyer. "The dome will also be used as a science lab for all our Pre-K through eighth-grade students."
Boyer added that the project is rooted in community service, and the students will use greenhouse to grow organic food to donate to the Star of Hope homeless shelter and a local food bank.