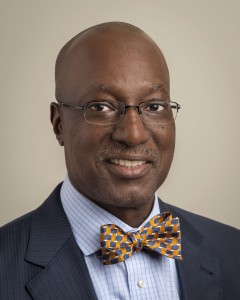 Houston Independent School District Deputy Superintendent and Chief Financial Officer Ken Huewitt has been honored by the Council of Great City Schools with the 2015 Bill Wise Award for distinguished service to urban education.
The national honor was established in 2000 to recognize school district business officials who distinguish themselves through their service to urban education and exemplify professionalism, commitment, integrity and leadership. The award is bestowed by Council of the Great City Schools, which brings together 68 of the nation's largest urban public school systems in an effort to improve the education of urban schoolchildren.
Huewitt, who has more than two decades of experience in the audit and finance industries, received the honor on Wednesday during the Council of Great City School's Chief Financial Officer Conference in Houston. Huewitt is the third chief financial officer from HISD to receive the honor. Previously, Melinda Garrett won in 2010 and Leonard Sturm won in 2001.
"Ken is always focused on our district mission and his goal is to provide all students with a quality education that prepares them for a bright future," HISD Superintendent Terry Grier said. "His dedication to HISD reflects his professional and personal commitment to public service, and we are fortunate to have him on our team."
Huewitt, who joined HISD in 2001, oversees all financial operations of the district, as well as day-to-day operations in the superintendent's absence. He oversees the Controller's Office, Budget and Financial Planning, Benefits and Risk Management, Medicaid Finance, Real Estate, Materials Management and Warehousing, as well as the School Business Manager Training Program.
He also serves as a certified public accountant, certified internal auditor, certified government financial manager, and certified financial services auditor.
Prior to joining HISD, Huewitt served as an auditor for the U.S. Department of Housing and Urban Development's Office of Inspector General, a senior audit specialist for the Federal Deposit Insurance Corporation (FDIC), a senior associate for Coopers & Lybrand, and a regional director of finance for The ServiceMaster Corporation.
"It is a tremendous honor to receive an award that recognizes the outstanding work that my team and I have accomplished," Huewitt said. "Serving a school district is rewarding work. There is no greater cause than public education."