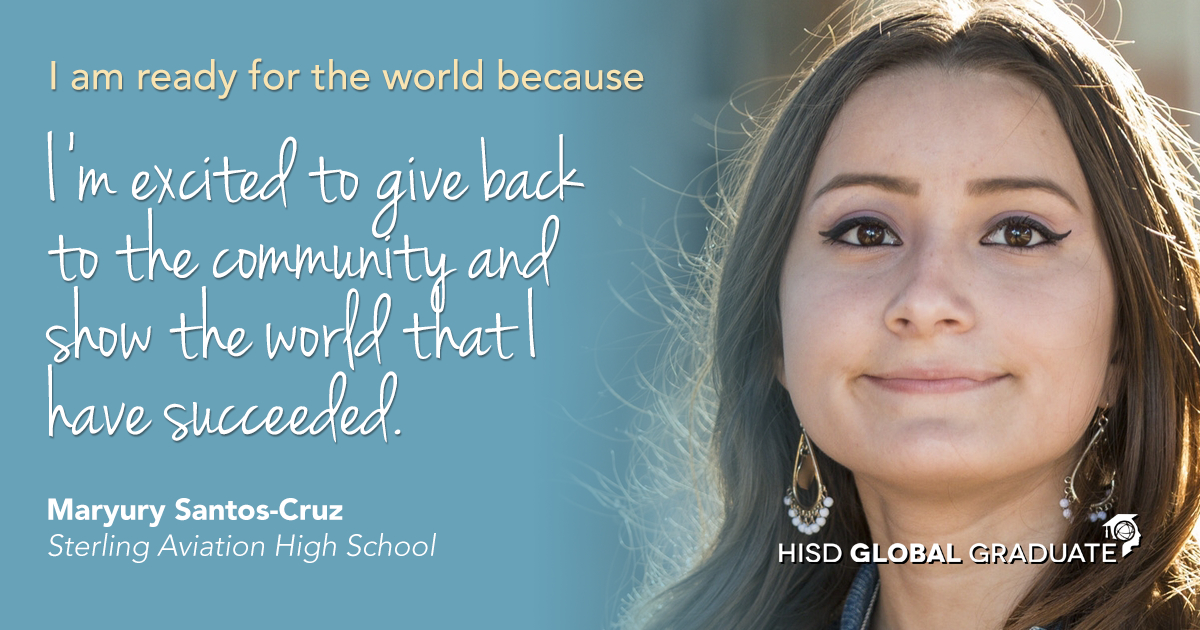 Editor's Note: This week, thousands of HISD seniors will receive their diplomas during graduation ceremonies across the district. Many of our students have overcome challenging circumstances during their educational journeys. We are sharing a few of their stories this week.
Maryury Santos-Cruz spoke no English when she arrived in the U.S. from Honduras at age 10. Eight years later, she is valedictorian of her class at Sterling Aviation High School.
She credits American television shows, nonstop reading, and the guidance of an effective middle-school ESL teacher with helping her overcome the language barrier.
"I was resilient. I never gave up," she says. "I believed in myself even if others didn't."
The National Honor Society member is graduating with a head start on college: an associate's degree in applied science logistics and global supply chain management from Houston Community College. She is heading to the University of Houston in the fall to major in pharmacy and puts "giving back to the community" at the top of her to-do list after high school.
It's something she has long made a priority.
As a OneGoal mentor, Maryury helps other students see their potential, encouraging juniors to think about college and their options for the future.
"I want them to see that there is more out there."
She encourages anyone struggling in school to finish what they started and "if you need help, go look for it. Find some mentors. You never know how much you can accomplish if you never try."
Maryury says her teachers in HISD gave her the tools she needed to succeed, emphasized the importance of education and always offered her encouragement to do better. And her parents were key to her success.
"I'm excited to make my family proud and show them everything they have done for me is worth it in the end."