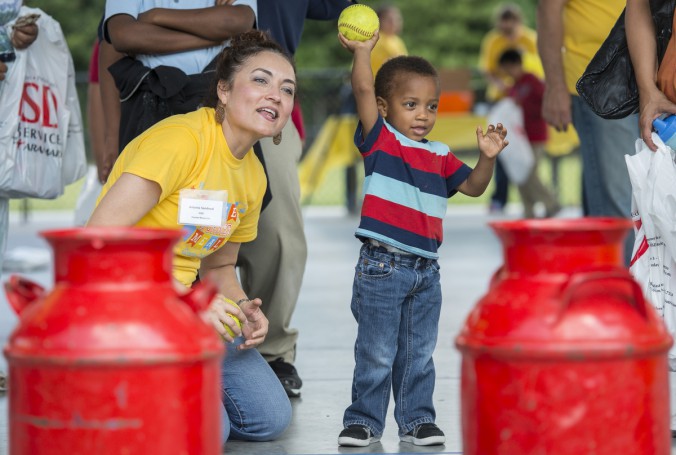 The long stretch of hot days (and nights) in Houston have begun, and by now you probably have already heard your child utter two dreaded words: "I'm bored." Don't worry – we have you covered! See the list below for some ideas that will keep your child both entertained and prepared when the first day of school rolls around. You can also check out HISD's summer page for more helpful information.
Read!
Make reading a daily activity for kids. It's important to keep reading all summer long to stay sharp and retain the literacy skills developed during the school year. HISD has joined with the Houston Public Library and myON – a digital library where students can access more than 5,000 free books – for this year's summer reading program. The goal is to for students to read at least five books over the summer. Join the fun and learn more here.
Volunteer!
Volunteering is a learning experience for children of any age. Not only does it help build empathy, but it's a way to give back to the community while still spending time together as a family. Research shows that volunteering positively impacts a child's well-being and enhances development. Take a look through some of the great opportunities across the city here.
Go on an educational outing!
Houston has one of the most robust museum districts in the country, with 19 museums focusing on a wide range of topics. The Houston Zoo is also nearby, as well as Miller Outdoor Theater and the Japanese Garden. Several museums are offering Free Museum Thursday. Check out the museum district's summer guide to get a complete list of activities and upcoming events.
Go to camp!
There are several fun and enriching camps for children of all ages available across the city. Find one that matches your child's interest or needs – whether it's band, sports, theater, STEM, cooking, or a subject-related focus. HISD's summer page has a list, or you can search houstonsummercamps.org.
Get ready for a new year!
Mayor's Sylvester Turner's Back to School Fest is a great opportunity for Houston families to take advantage of an array of resources provided by the City of Houston and other sponsors. As in years past, only registered kindergarten through fifth-grade students will receive a backpack filled with school supplies. In addition, students can take advantage of free eye and ear examinations, vaccinations, and lessons in dental hygiene and health.