Veteran educator known for innovative work promoting bilingualism, global citizenship and addressing students' social and emotional needs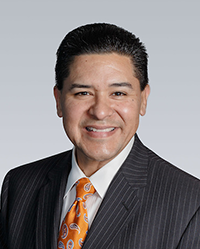 The Houston ISD Board of Education on Wednesday named Richard A. Carranza as the sole finalist for superintendent of the nation's seventh-largest school district. The vote was unanimous.
By Texas law, the board now must wait 21 days before taking a final vote on whether to hire Carranza.
Carranza is a life-long educator who served as a teacher, principal and in other leadership posts before rising to his most recent position as superintendent of the 53,000-student San Francisco Unified School District in California. Last year, Education Week profiled Carranza as a national 2015 Leader to Learn From. Fluent in English and Spanish, Carranza has led one of California's most diverse, high-achieving public school systems since 2012.
"The Houston Independent School District has earned a national reputation for innovation and academic achievement among all student groups," Carranza said. "I am honored that the Board of Education would consider me for the superintendent position. There are many challenges facing Houston's students, and I look forward to working with the community to build on Houston ISD's strengths."
[su_youtube_advanced url="https://youtu.be/5O_69sjKjzM"]
HISD Board President Manuel Rodríguez Jr. said Carranza embodies many of the key qualities that members of the HISD community said they value in a leader. Before interviewing candidates, the board worked with an outside search firm to develop a Leadership Profile Report, which was created by gathering community input from more than 3,200 individuals. The firm – Hazard, Young, Attea and Associates – also created a report outlining the desired characteristics sought in a candidate, based on the input it gathered.
"Mr. Carranza is a proven leader. He has a strong record of building a collaborative, positive, climate of trust and respect among all stakeholders," Rodríguez said. "He understands the teaching and learning process and the value of creating a culture of high expectations. The Board of Education believes Mr. Carranza is the right leader at the right time for Houston's children."
Last year, Carranza told Education Week that public schools must adjust to meet the needs of 21st Century students.
"We take the approach that everybody deserves an excellent education," he said. "It's not the student who's at fault [regarding] whether they're learning or not. It's really the system being able to meet the needs of the students."
In San Francisco, Carranza has championed many equity-focused strategies for driving student academic achievement that have also been embraced in Houston.
For instance, San Francisco USD has embraced the goal of graduating students who are globally aware, culturally competent and multilingual. These goals are in line with HISD's Global Graduate profile and the district's decision to establish 62 dual language schools.
Under Carranza's leadership, San Francisco USD has worked to reduce student disciplinary suspensions while emphasizing practices that help students remain in their classrooms. Houston ISD is on a similar path. Beginning this school year, schools will no longer suspend students before the third grade, unless required to do so by law. Instead, teachers and campus leaders have spent much of the summer learning strategies for addressing students' social and emotional needs.
According to his official biography, Carranza was San Francisco USD's deputy superintendent of instruction, Innovation and Social Justice for three years before being named superintendent. Before moving to San Francisco, Carranza served as Northwest Region superintendent for the Clark County School District in Las Vegas, where he oversaw 66 schools with more than 66,000 students. He was a high school principal in Tucson, Ariz. and in Las Vegas. Carranza also has worked as an assistant principal and a teacher of bilingual social studies and music.
Carranza earned a bachelor of arts in Secondary Education from the University of Arizona and a masters of education with distinction in Educational Leadership from Northern Arizona University. He has completed his doctoral coursework through Northern Arizona University and is currently pursuing a doctorate of education through Nova Southeastern University in Educational Leadership.
Carranza is a highly regarded figure on the national education scene. He chairs the Board of Directors for the Council of the Great City Schools, serving as a national spokesperson on significant issues facing urban school districts.
He also serves on the Association of Latino Administrators and Superintendents' Board of Directors, the National Commission on Teaching and America's Future, the American Association of School Administrators Executive Committee, the San Francisco Symphony Board of Governors, the Fine Arts Museum of San Francisco Board of Trustees, and the K to College Advisory Board.