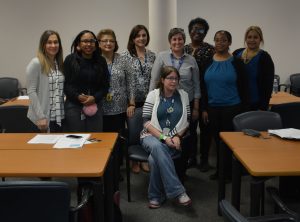 The Family and Community Engagement (FACE) department carries out its mission of advancing student achievement by building parent engagement within HISD. One key component to achieve this goal is by empowering parents to become advocates in their children's education, and to do so, FACE is helping schools build their capacity to reach parents through its FACE Parent Engagement Representatives (PERs) program.
Launched during the 2015-2016 academic year, the PERs program incorporates activities designed to enhance parent awareness of the schools and district's programs as well as key community resources. The program is funded by Title I funds from the Parent Involvement grant. For the current academic school year, 17 PERs have been placed by FACE to cover 17 campuses across the district.
"We are excited to continue supporting schools by actively fostering family and community empowerment through our PERs" said Jorge Arredondo, assistant superintendent of FACE. "We have developed this initiative for PERs to provide additional support by improving school climate, student attendance, and ultimately, student achievement.
Research-based findings for the 2015-16 PERs cohort shows that PERS impacted almost 16,900 students in 20 HISD campuses. A study conducted by HISD Research and Accountability found a statistically significant higher performance in academic achievement as measured by STAAR tests – specifically English and Math STAAR tests – when compared with schools without a parent engagement representative.
PERs actively develop and support parent and community organizations through volunteerism at the campuses in which they are placed and operate. They lead staff development and parent workshops, support parent organizations within campuses, schedule and facilitate speakers at Parent Centers and other events, and attend community events, among other campus-based support.