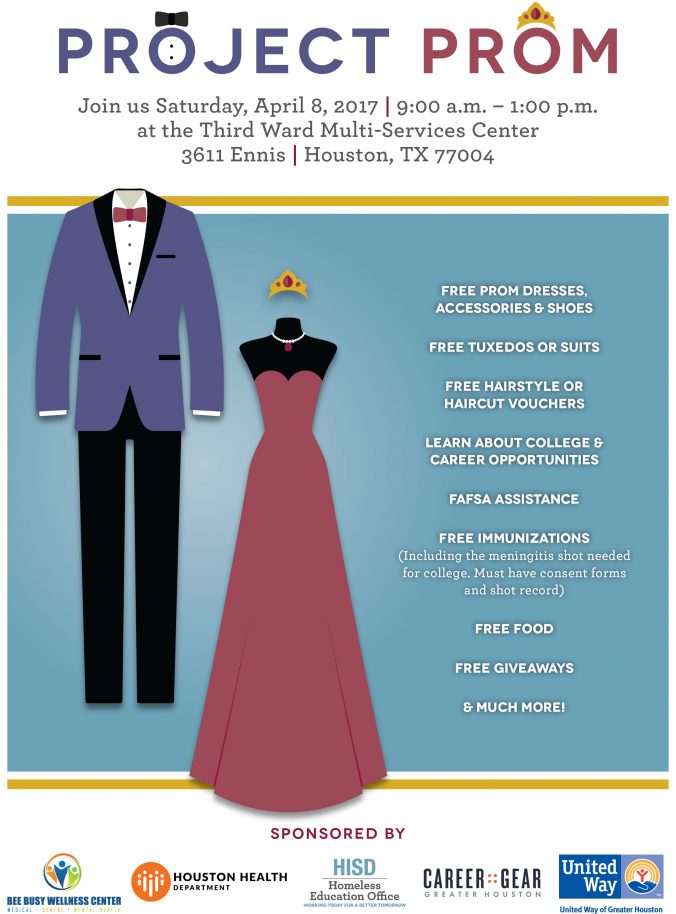 The Houston Independent School District Homeless Education Office will provide free dresses, tuxedos, shoes, and accessories to hundreds of homeless and at-risk high school seniors planning to go to prom.
The second annual Project Prom event will be held on Saturday, April 8, from 9 a.m. to 1 p.m. at the Third Ward Multi-Service Center (3611 Ennis St., Houston 77004). Students will be able to select formal attire from a wide selection that includes more than 1,000 dresses, 1,500 men's blazers, and 1,500 men's pants.  
Hundreds of students will receive the items they need to attend their senior prom, thanks to the support of the Bee Busy Wellness Center, City of Houston Health Department, United Way, Career Gear, Carla's Closet, and This Woman's Work.
The event also will include motivational speakers and special performances by the Whidby Elementary School Dolls Twirling Team and local comedian Chinedu Oju. College and career resources as well as health services, including meningitis shots which are required for all incoming Texas college students, will also be provided.
The HISD Homeless Education Office is a grant-funded program that serves about 6,000 homeless students throughout the district.