Juniors and sophomores, t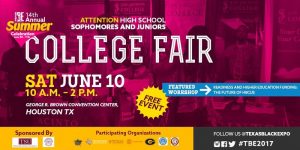 his free college fair is for you!
The 14th Annual Summer Celebration/College Fair + Workshop takes place on Saturday, June 10, from 10 a.m. to 2 p.m. at the George R. Brown Convention Center.
At this FREE event, you will learn about Historically Black Colleges and Universities (HBCU). You will have a chance to speak with HBCU representatives about the college admissions process, academic offerings, student life, athletics, financial aid, and more.
There will a workshop on "Readiness and Higher Education Funding: The Future of HBCUs."
If you preregister here, you will have a chance to win $1,500 in scholarships!
Participating schools include Texas Southern University, Grambling State University, Cornell University, Alabama A&M University, Dillard University, University of Texas at Austin, and Prairie View A&M University. A full list of universities will be available at the event.