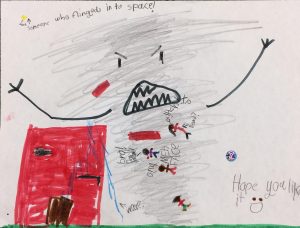 When some HISD students wanted to raise money for hurricane victims, they picked up their paint brushes and crayons and got to work. Tinsley Elementary School art teacher Phil Daum and his students are using art and technology to raise money for the HISD Foundation's hurricane fund.
The students are selling art inspired by their experiences during Hurricane Harvey, and their classroom has been turned into a fulfillment center. Nearly 30 paintings by students in all grade levels are listed on their website and are priced from $10 to $50. Shipping is free for the first $250 of artwork sold, as long as they don't exceed 12 inches by 12 inches. Visit the website at www.hurricaneharveyart.com to order. All funds go directly into the HISD foundation via PayPal.
Texas Art Supply on Montrose donated 42 canvases and discounted 20 easels for students, and Daum used gift cards from TEACH to purchase the rest of the supplies.
Several Texas artists are donating work to be part of the project as well, including Chris Minamyer, Lisa Urban, Nikki Hune, JP Hartman, Eric Theodore, and Daum himself. The site will be updated with new art work, and eventually there will be a silent auction of the paintings.
Art teachers from any school in the district may submit artwork for the website by contacting Daum at Phillip.Daum@HoustonISD.org.