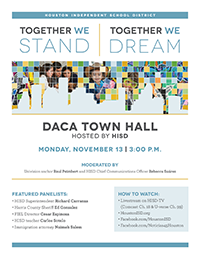 The Houston Independent School District will hold a live town hall on the Deferred Action for Childhood Arrivals (DACA) program at 3 p.m. on Nov. 13, and it will be streamed via HISD-TV and social media.
The program will address questions about DACA, which was created in 2012 to allow young people brought to the U.S. by their parents to get a temporary reprieve from deportation and to receive permission to work, study, and obtain a driver's license. DACA recipients who did not apply for renewal by Oct. 5 are in danger of losing their protection from deportation and their work permit this year under a plan to start phasing out the program.
Featured panelists will include HISD Superintendent Richard Carranza, Harris County Sheriff Ed Gonzalez, FIEL Director Cesar Espinosa, HISD teacher and DACA recipient Carlos Sotelo, and immigration attorney Naimeh Salem.
The program, moderated by Univision anchor Raul Peimbert and HISD Chief Communications Officer Rebecca Suarez, will be a non-partisan conversation about the program and the impact of DACA's suspension.
You can watch live at HISD-TV (Comcast Ch. 18 & U-verse Ch. 99) and at HoustonISD.org, Facebook.com/HoustonISD, and Facebook.com/Noticias45Houston.
Find college access resources, legal information, FAQs and more.
HISD is providing resources and counseling to students affected by DACA, many of whom have college and career aspirations. The district is also busy advocating at the state and national level on this important issue.
The Department of Homeland Security will no longer consider new applications for legal status, and U.S. Citizenship and Immigration Services (USCIS) said it was rejecting all new DACA requests and employment authorization document (EAD) applications received after the Sept. 5 memo.
HISD to host Dream Summit for students on Dec. 9.
Superintendent Carranza issues special message on DACA repeal.