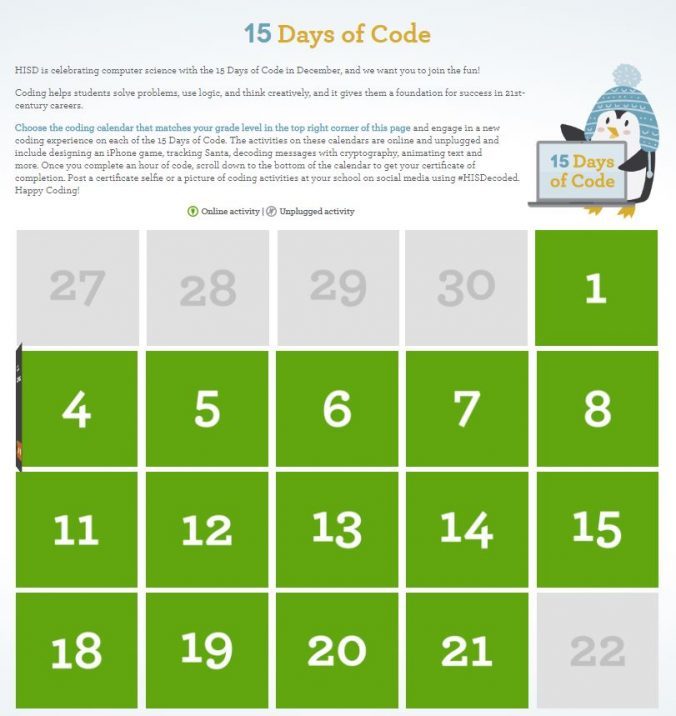 Design an iPhone game. Track Santa's movements. Animate text. Those are just a few of the ways students can participate in Computer Science Education Week this Dec. 4-10, and this year HISD employees are also encouraged to get in on the fun.
The Advanced Academics Department has created "15 Days of Code," made up of interactive calendars that allow students to engage in a new coding experience every day.
The activities on these three calendars for elementary, middle, and high school include lessons such as designing a web pages with HTML, creating a virtual pet, developing interactive art, and even teaching a robot to make crepes.
Activities are online and unplugged and will engage students in a new coding experience each day.
In addition, the Advanced Academics Department is hosting a coding bash and technology showcase on Friday, Dec. 8, to demonstrate the importance of coding. All central office staff members are invited, and a special session will be held for HISD Board and cabinet members. Microsoft team members will be on hand to interact and showcase basic programming and coding technology.
HISD's 15 Days of Code coincides with Computer Science Education Week, when students and the greater HISD community are encouraged to join the worldwide movement and try one hour of coding as an introduction to computer science. Through this "Hour of Code," students are challenged to think critically and solve problems as they learn the basics of computer programming.
"All students benefit from the opportunity to learn computer science skills," said Adam Stephens, officer of Advanced Academics. "Those skills include problem-solving, creativity, and logic – all of which provide a solid foundation for college and careers."
After completing an hour of code on the 15 Days of Code calendar, participants can scroll down to get a certificate of completion. Send pictures of your campus coding activities to news@houstonisd.org, or post your coding event and a selfie with your certificate on social media using #HISDecoded.
Learn more about computer science at HISD here.