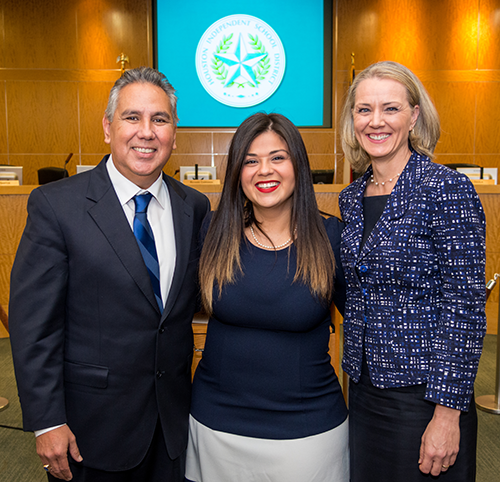 The Houston Independent School District Board of Education welcomed three new trustees and three re-elected trustees on Thursday, Jan. 18, in the Manuel Rodriguez Jr. Board Auditorium at the Hattie Mae White Educational Support Center. Elizabeth Santos (District I), Sergio Lira (District III) and Susan Deigaard (District V) were formally sworn in, and trustees Wanda Adams, Anne Sung, and Holly Maria Flynn Vilaseca renewed their oaths of office.
The ceremony was attended by many elected officials, including State Senator Sylvia Garcia; State Representatives Ana Hernandez, Gene Wu, Armando Walle, and Ron Reynolds; Justice of the Peace Jo Ann Delgado, and former County Commissioner Gene Locke. Senator Garcia thanked the HISD trustees and presented them with a proclamation passed in the Texas Senate recognizing their ongoing hard work. The state representatives also recognized and thanked the board.
[photoshelter-gallery g_id="G0000fZ1pgSlVUvE" g_name="20180118-TrusteeOathOffice-Ceremony" width="600″ f_fullscreen="t" bgtrans="t" pho_credit="iptc" twoup="f" f_bbar="t" f_bbarbig="f" fsvis="f" f_show_caption="t" crop="f" f_enable_embed_btn="t" f_htmllinks="t" f_l="t" f_send_to_friend_btn="f" f_show_slidenum="t" f_topbar="f" f_show_watermark="t" img_title="casc" linkdest="c" trans="xfade" target="_self" tbs="5000″ f_link="t" f_smooth="f" f_mtrx="t" f_ap="t" f_up="f" height="400″ btype="old" bcolor="#CCCCCC" ]
Trustee Santos was sworn in by Senator Garcia. "I will need your ideas, your observations, your opinions, and your support to make the dream we voted for a reality," Santos said. She is a native Houstonian and a product of HISD, attending Janowski and Herrera elementary schools, Burbank Middle School, and Sam Houston Math, Science and Technology Center. She is a graduate of the University of Houston-Downtown and has spent the last 10 years as a teacher at Sam Houston and Northside High School.
Dr. Lira was sworn in by the Honorable Judge Jo Ann Delgado. In order to serve on the board, Dr. Lira retired from HISD on Wednesday after serving as an educator for 27 years. "My message is very simple," he said. "I want to help provide the best quality education possible for all students in HISD. Every student should have an equal opportunity for a great education." Dr. Lira is a graduate of the University of St. Thomas and University of Houston-Clear Lake, and completed his doctorate in educational leadership and policy studies at the University of Houston in 2015. He is also a graduate of the Superintendent Certification Program at the University of Houston–Clear Lake.
Trustee Deigaard was sworn in by former State Representative Scott Hochberg. "I sought to serve on this board for each and every child in our district," she said. "They are the foundation of our amazing city, and they deserve the foundation to be strong so they can soar." Deigaard attended public schools in Illinois and graduated from Rice University with a bachelor's degrees in English and flute performance. She has worked as an educational advocate for over 20 years.
Trustee Sung was sworn in by Gene Wu. A Bellaire High School and Harvard University graduate, she was a Teach for America corps member who focused on physics, teaching at Wisdom High School. Among her many accomplishment is cofounding Community Voices for Public Education.
Trustee Vilaseca was sworn in by Senator Garcia. A product of Ohio public schools with degrees from the University of Michigan and Columbia University, she was appointed to the Board of Education in January of 2017 to complete Greg Meyers' unexpired term. Vilaseca has worked as a bilingual and dual-language educator in both HISD and area charter schools.
And finally, President Adams was sworn in by Judge Delgado, who is a longtime supporter and friend. Adams has served as board president for the past year, and during her final hours in that position, she thanked her family, her friends, and the team that has been with her for 10 years. "As long as we stay together and work together, we will be victorious," Adams said. She is a graduate of Kashmere High School and Texas Southern University and has served in public office for 10 years.
In closing, Superintendent Carranza congratulated all the new and re-elected trustees. "Thank you in advance for your service, and let's make sure every student is treated not only equally but equitably in our system so they get what they need to be successful."