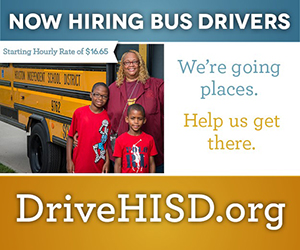 The Houston Independent School District's Transportation Services department is hosting four job fairs across the city to recruit and hire bus drivers to staff routes for the 2018-2019 school year.
The job fairs will be held from 9 a.m. to 1 p.m. on four Saturdays in May and June:
May 12, 2018, Scarborough High School, 4141 Costa Rica Road
May 19, 2018, Hexser T. Holliday Food Services Support Center, 6801 Bennington St.
June 2, 2018, Westbury High School, 11911 Chimney Rock Road
June 9, 2018, Gregg Elementary School, 6701 Roxbury Road
Selected applicants will earn a starting hourly wage of $16.65 and will be provided free CDL training. Other benefits include health, dental and vision insurance, Teacher Retirement System participation and special trip pay options.
"In Transportation Services, the safe and efficient delivery of our students to and from their school campus is of the utmost importance," Transportation Services General Manager Timothy Brown said. "We are looking for skilled, reliable drivers who understand that the support we provide through transportation is critical to the students' learning process."
All applicants must be at least 18 years old with a valid Texas driver's license and a motor vehicle report with less than six points. They must also be able to pass a background investigation, drug and alcohol screening and a Department of Transportation physical. Applicants must also be able to communicate in English both orally and in writing.
For immediate consideration, interested candidates should apply online at www.DriveHISD.org, or call 713-556-9400 with any questions.