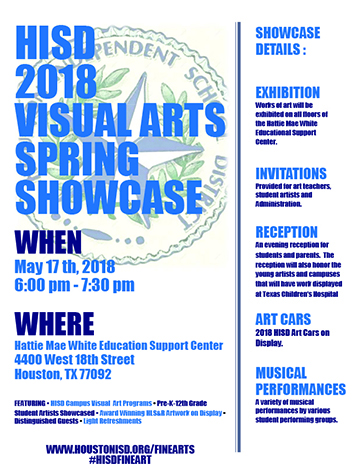 The eighth annual Visual Arts Spring Showcase – the the largest display of student artwork ever exhibited at Hattie Mae White Educational Support Center – will take place from 6 to 7:30 p.m. on Thursday, May 17, at Hattie Mae White (4400 W. 18th St. 77092) with an evening reception for students, their families, and guests.
HISD art teachers are using this opportunity to showcase the amazing range of art created by their students. Paintings, sculpture, collage, photographs and more by students in grades pre-K through 12 are currently on display on all three floors of HMW through May 18.
The show includes award-winning pieces from the Houston Livestock Show and Rodeo, as well as the "Super Show" award that HISD won for the first time ever this year. Also on display is a selection of artwork destined to hang at the new Texas Children's Hospital. TCH and Marion Art Consultants of Chicago commissioned 24 HISD schools to create works to adorn the walls of the new building in phase one of the project.
"We are excited to see the positive effects that our new visual arts curriculum has had on campus culture and teacher identity," said Visual Arts Curriculum Specialist Rickey Polidore. "We created this year's curriculum with the goal of highlighting the positive effects of visual arts instruction on student achievement and efficacy. The excellence of the work illustrates the Fine Arts Dept.'s success in saturating campuses with quality visual arts instruction."
HISD Interim Superintendent Grenita Lathan will greet families and deliver a few remarks at 6:15 p.m. Light refreshments will be provided, and there will be music by the Booker T. Washington and Westbury jazz bands. There will be half a dozen award-winning art cars from this year's art car parade to greet visitors as they enter HMW.
For questions, please contact Polidore at RPolidore@HoustonISD.org.
For more information about the HISD Fine Arts Dept., see www.HoustonISD.org/FineArts and #HISDFineArt.