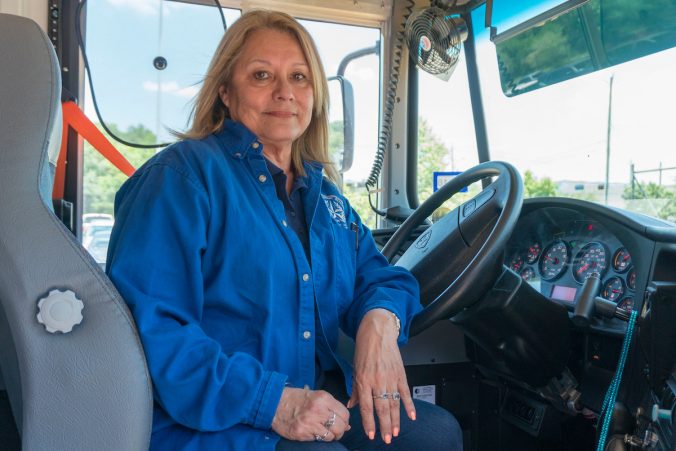 Before Houston Independent School District students can grab school breakfast to fuel their learning or pull out books and laptops to begin class, one crucial thing must happen to start the day.
They must arrive at school safely. That's where Norma Garcia comes in.
A veteran bus driver with more than 30 years of experience, Garcia first started in HISD 23 years ago. She currently drives routes that service High School for the Performing and Visual Arts and DeBakey High School for Health Professions.  
"It feels good. It's like seeing your own kids. You see them for four years, and then they're going out into the real world," Garcia said. "You get to know them. You know their first and last names, what time they'll be at their stops. If they're late, you know something is wrong."
Before moving with her family to Houston, Garcia drove a school bus for 10 years in her hometown of Mercedes, Texas. The mother of two initially applied to become a driver in South Texas because it fit her family's schedule. When her kids were out of school on holidays, she was she.
But bus driving quickly became more than just a job for Garcia. It became her passion. It also didn't hurt that she's always had a keen sense of direction.
"If you put me out there, I'll find it," she said.
When her family decided to make the move to Houston, Garcia knew just what she wanted to do. Armed with a recommendation letter from her former employer, she applied to HISD and was hired immediately. It didn't take long for her to see the stark differences in rural and metropolitan life.
"Back home, it's just rural with two-lane highways and dirt roads. In the city, it's bigger. It's a lot different," Garcia said. Initially, the difference was enough to shake her confidence in her rock-solid navigation skills.
"At first, I didn't do field trips because I was afraid. But then I got used to it. I didn't know the area very well, but I got my key map and started learning about different places."
The key map, which required drivers to plot their routes out by hand before operating the school bus, turned out to be what Garcia needed to bolster her confidence and learn more about the city. And as she learned, she got comfortable with her surroundings. Soon, she was driving both regular routes and field trips. She hasn't looked back since.
With more than three decades of bus operation under her belt, Garcia said she is eyeing the possibility of retirement in the next couple of years.
But don't hold her to it.
"That's what I keep saying, but I don't know. I don't know what to do with myself," she said. "I've had other jobs, but this is my life."
Interested in joining HISD as a bus driver? Transportation Services is hosting district-wide job fairs throughout May and June to find drivers for the 2018-2019 school year. To learn more about the job fairs or to apply online, visit www.DriveHISD.org, or call 713-556-9400.