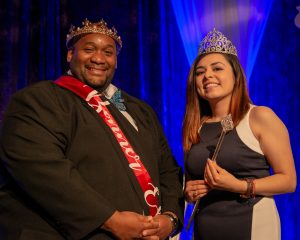 The Houston Independent School District on Friday paid tribute to the district's top elementary and secondary teachers of the year during the seventh annual Educators of the Year banquet, which honors exceptional teachers and principals.
Darron Smith, a fifth-grade ESL teacher at Bonner Elementary School, was named HISD Elementary Teacher of the Year, while Alejandra Ortega, an eighth-grade math teacher at McReynolds Middle School, was named HISD Secondary Teacher of the Year.
Smith and Ortega each received a $2,500 cash award and an engraved plaque. They also will advance to the state's regional Teacher of the Year competition.
Smith, who is in his 19th year of teaching, attributes his success in the classroom to his personal experience as a student in HISD.
"I love to take a student who some consider unteachable, uncontrollable, unrefined, and make them see their true potential," Smith wrote in his award application. "I can honestly say that in 19 years I have helped hundreds of students believe in themselves and their academic abilities. I feel we need more love in education. That is another contribution I am proud to bring into the classroom. I love what I do, and I love the impact it can have on the future."
Ortega, who has been an educator for two years, believes that creating a culture of mutual respect with her students has been critical to her success.
"In our classroom, we say that 'mistakes are expected, respected, inspected, and corrected,'" Ortega wrote in her award application. "By developing a classroom culture that focuses on growth and not solely perfection, students are more likely to take risks and engage in the work and begin to push themselves to much higher expectations, knowing they are capable of accomplishing so much more through hard work and persistence."
More than 1,700 teachers from all 284 HISD schools attended the sold-out event. HISD Board of Education President Rhonda Skillern-Jones thanked the teachers for always putting their students first and for changing students' lives for the better.
"Despite all the hardships that teachers and principals have faced this year, including their own personal crises, those being honored tonight have risen above and uplifted us," Skillern-Jones said.
During the event, the district also honored its 2018 Beginning Teachers of the Year with a $150 cash award. The winners are Ghida Hijazi of Cornelius Elementary School, Cherina Connor of Henry Middle School, and Kadee Harper of Lamar High School. Other winners include Peck Elementary School's Aurelia Wagner, who was presented with a $1,500 cash prize as part of the Emily Scott Evans Award, which is given to a third-grade teacher known for encouraging students to be excited about learning and to respect peers and adults.
"I want to thank our educators for bringing enthusiasm, innovation and heart to their classrooms every day," said Interim Superintendent Grenita Lathan. "They work long hours and serve many roles in our students' lives, sometimes acting as parent, counselor, motivator and caretaker."
For the fourth year in a row, two teachers were honored with the Fan Favorite Award, which allows HISD staff, students, and alumni to vote for their favorite campus-based teacher of the year. Nearly 70,000 votes were submitted. Eduardo Duclos Dieguez of Fondren Elementary School received this year's Fan Favorite Award for elementary teachers while Jamie Scott of Carnegie Vanguard High School received the Fan Favorite Award for secondary teachers.
Both elementary and secondary principals of the year, which were announced in February, also were recognized at the event. Braeburn Elementary School Principal Santos Reyes was named HISD's Elementary Principal of the Year, and Jones Futures Academy Principal Geovanny Ponce was selected as HISD's Secondary Principal of the Year.