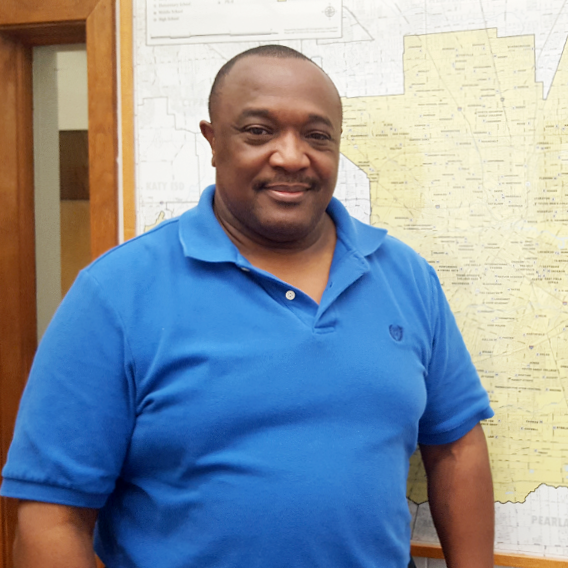 It is often wondered if walls could talk, what secrets they could tell. But for Security Maintenance dispatcher Kenneth Johnson, walls don't talk. They see.
Johnson is responsible for reviewing the security cameras for all HISD's campuses and buildings. He ensures that customer care and security for the district is kept to the highest standards.
"If there are any emergencies that come about, any technical difficulties with our security systems in the campuses, my job is to have them solved promptly," Johnson said. "It is critical for our staff and for our students that we know of these and solve them. Security is always our priority."
A dispatcher since 2009, Johnson is assigned to the night shift. He arrives at his post early to review what the cameras have monitored throughout the day.
"Anything can go wrong at school," Johnson said. "We are basically the eyes for the schools. We work hand-in-hand with the police department, and notify them of any suspicious activities."
Johnson, who has always worked in similar roles, is known for stepping in and helping when it's needed most.
During Hurricane Harvey, Johnson left behind his home — which luckily didn't suffer major damages — and relocated to HISD's Hattie Mae White Educational Support Center to monitor the district. He worked with different departments for five days straight. According to Johnson, "the Harvey days were a totally different world."
"I was just sitting down on my little corner, keeping to myself and keeping watch of our cameras, doing my usual work," Johnson said. "I saw waters rising, schools getting inundated and damaged. Then deciding where the help was mostly needed — it was hard."
As the flood waters rose, some HISD locations lost their security camera feeds. But Johnson kept calm and helped organize response logistics, which included determining where to send technicians.
"It was kind of scary. I had cameras there to look until it all went blue and we couldn't see anymore," Johnson said. "Water was even going up the hallways."
Johnson said he hopes that a disaster like Hurricane Harvey never occurs again. But if it does, he said he's ready to "grab the bull by the horns" and work with his team to do what they can to help.
"I believe in helping whoever needs to be helped," Johnson said. "I am a team player and try to go above and beyond. Whatever takes to get the job done — well, that's my job."