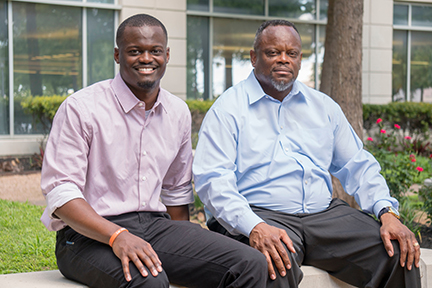 If you ask Zach Hoskins about his father, he'll tell you that he has been nothing short of an inspiration and the motivating factor that lead him to work for the Houston Independent School District.
Since he was a child, Zach Hoskins has watched in awe as his dad — HISD Maintenance and Operations General Manager Al Hoskins — climbed the ladder of success, working his way up from a roofer assistant to senior management.
With a year under his belt in HISD's Construction Services, Zach Hoskins said he strives to imitate his father and his career.
"I enjoy the teamwork the most because everyone comes together to help one another out," Zach Hoskins said, recalling the teamwork within his dad's department that he saw as a child. "I realized that you're not by yourself when it comes to working for HISD."
As a Construction Services representative, Zach Hoskins' job calls for him to assist senior construction managers with several 2012 Bond projects throughout the district, including the renovation of middle school restrooms, and construction and renovation of Madison and Westbury high schools, and Young Women's College Preparatory Academy.
Splitting his time between the office and the field, Zach Hoskins said it doesn't matter if he is dressed in slacks and a collared shirt or a safety vest and steel-toed boots — he always prides himself on having a strong work ethic and tries to ensure that it's shown through his work.
"He makes me a proud father," said Al Hoskins, whose career at HISD has spanned three decades. "I'm impressed with the interest he took in construction management, especially when he grew up seeing how busy my schedule would be at times."
The Hoskins family has a long history with HISD. In addition to the elder Hoskin's 30-year tenure, Zach's mother also works for the district. She has been with HISD for almost two decades and currently serves as a special education clerk at Lawson Middle School.
Zach Hoskins said one of the best benefits of his job is how much his relationship with his father has flourished as a result.
"Since I have been here, our bond has gotten stronger because this is something we can talk about and relate to," Zach Hoskins said. "It is a very rewarding feeling."