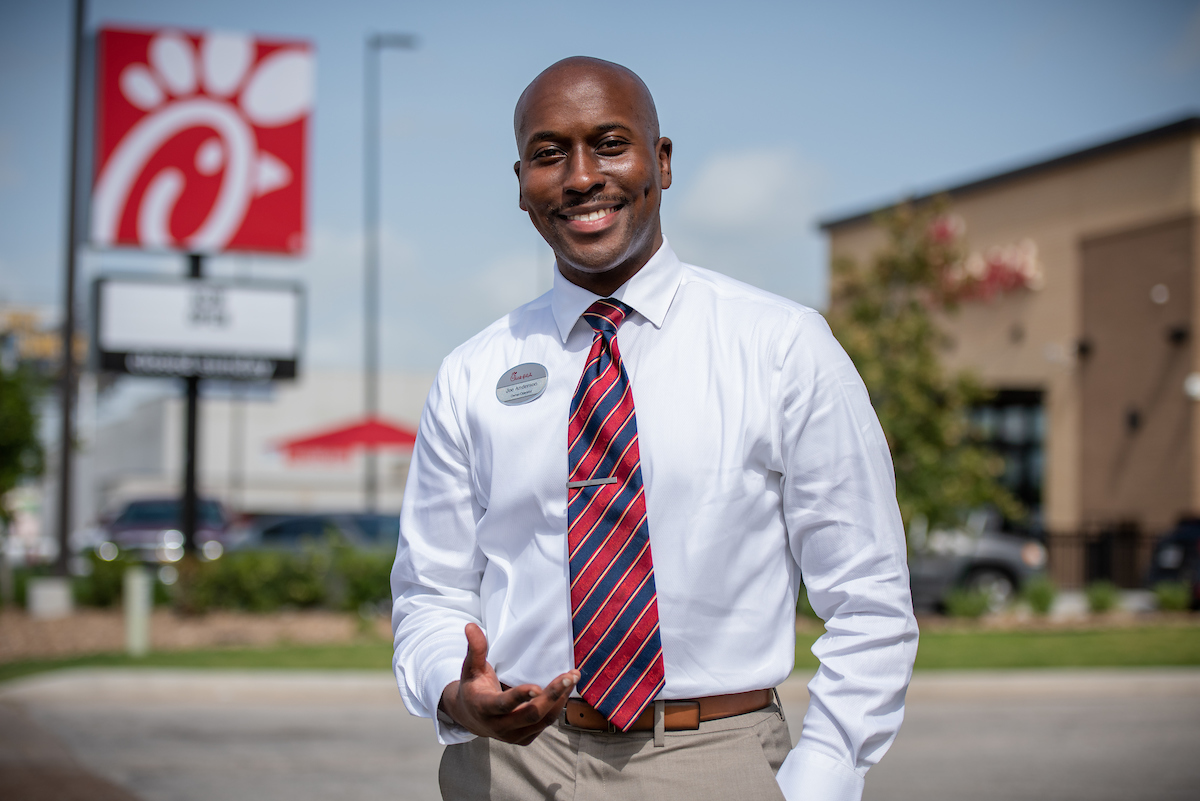 In August 2018, 29-year-old Joe Anderson opened a Chick-fil-A restaurant at I-45 and Almeda, becoming the youngest African-American owner-operator among Texas franchises. A Third Ward native and Jack Yates High School graduate, Anderson was determined to succeed in the restaurant industry and has put in long hours and hard work to achieve his dream.
You grew up in HISD and had some great success as a student athlete at Yates High School. What was your experience like as a student at Yates High School and growing up in the Third Ward?
I was so involved in track, and I was so passionate about competing at the next level and going to the state meet. I had transferred to Yates for my senior year and was there to get my diploma and run track. So, something I didn't do well in high school was socialize a lot. There are times I wish I would have socialized more, but I'm also appreciative of the sacrifices I made then and the hard work that came with being a student athlete.
What was it about Yates that helped you become so successful as an entrepreneur? Why was it important to become a businessman in your home city?
Through my experiences at Yates, I challenged myself to be an effective leader and communicator. In business, there are so many different scenarios your team gets to see you go through, and you want to be able to showcase how you deal with that to set an example. Being back home, that's where the void is. It's always been a dream of mine to give back to my community. That's where I feel like my dream came true.
You're currently the youngest African-American Chick-fil-A owner-operator in Texas. But that success didn't come without struggle. How did you reach this level of success, and what significance does that achievement hold for you?
I don't think I'm successful. I've accomplished a goal, but I'll become truly successful when I can pass the torch on and influence thousands of lives. So, I wouldn't say I'm successful yet. I've accomplished a major goal of mine. Being the youngest can change tomorrow because, in my opinion, Chick-fil-A always selects great talent, and Texas is a great market to be in.
Who was your role model and what kind of impact did they have on your drive to succeed?
I'm an extremely competitive individual, and I always looked up to my brother and my dad. I didn't want to be like them – I wanted to strive to be even better. It started there. I've also had a close mentor in Chef Rey, the executive chef for the Houston Rockets. He's been able to share and provide me with a lot of insight and knowledge in business and strategy overall – even confidence. But all in all, because I'm so competitive, my driving force is competing with myself on a daily basis to be better than I was yesterday. I'm just trying to pursue excellence, not greatness.
What kind of hard work and time does it take to become an owner-operator of your own restaurant?
With regard to time, it takes whatever time God sees fit. Being an entrepreneur never turns off. Your head never stops ticking. You wake up in the middle of the night thinking about how you can be more effective. It's challenging to learn how to turn that off, but you have to. If you don't, eventually it'll take over. With regards to work, you can't dream about it and not put your all into it and be passionate about it. The most challenging parts can be becoming more self-aware, learning what you're great at and not great at, and placing people around you to help you where you're weak. It takes time to understand that about yourself, and I'm still learning. That's the beauty in it all: I'm still learning.
Do you have any advice to share with current or future students at Yates High School?
My advice isn't for just current or future students at Yates, it's for all students. Presentation gets you to the door, communication can get you through the door. Learn how to think and do. Don't rely on others to think and do for you. Be okay with making mistakes, because that's where you learn. Ask questions. Ask for help. Seek counsel. Work relentlessly. Care for others. And pray.
Finally, what's your favorite item on the menu at Chick-fil-A?
Spicy Sandwich meal with American cheese, bacon on some days, large fry, a large Arnold Palmer, and two Chick-fil-A Sauces – a barbecue and a Sriracha.