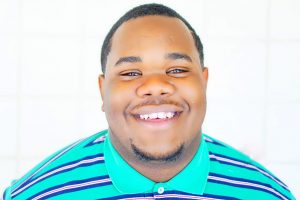 The CollegeBoard announced that it is investing $25 million over the next five years for its new Opportunity Scholarship. And to kickstart that commitment, Booker T. Washington High School 2017 graduate Matthew Blue has been awarded a $40,000 scholarship to continue his studies at Langston University in Oklahoma.
Blue is one of the very first recipients of CollegeBoard's Opportunity Scholarship, and the award was unveiled live on Good Morning America. Blue was a pioneer in making Official SAT Practice at Khan Academy a household name in HISD. Using Khan Academy, he increased his SAT score by more than 200 points, expanding both his scholarship and college options.
The Opportunity Scholarship does not require an essay, application, or minimum GPA. Instead, it rewards a student's efforts and initiative. The more effort a student puts in, the more likely they are to earn a scholarship ranging from $500 to $2,000. If a student completes all six steps outlined below, they will become eligible to earn a $40,000 scholarship like Blue. Scholarships are awarded through monthly drawings.
The program application will be open to the Class of 2020 in December at this link. However, students can complete some of the steps now to get a head start:
Create a free CollegeBoard account. Explore colleges and build your list at BigFuture.
Log in to your Khan Academy account and link it to your CollegeBoard account for personalized practice on the PSAT and SAT. Start practicing now!
There is no citizenship requirement to participate. For more information, visit http://opportunity.collegeboard.org or see your high school college advisor.