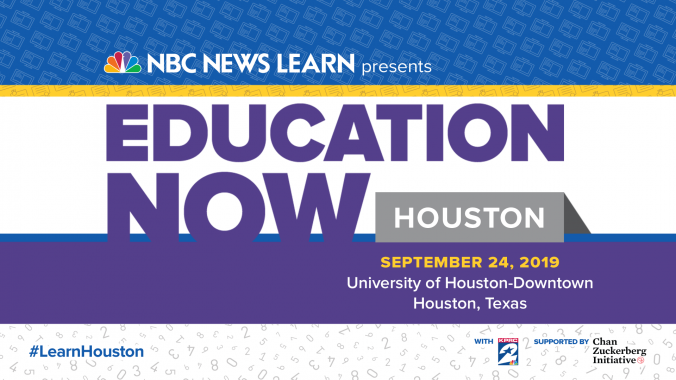 HISD Interim Superintendent Grenita Lathan will participate in a live education summit hosted by NBC News Learn, which will focus on the state of education in Houston and across the nation.
The live event will be held from 4-6 p.m. on Tuesday, September 24 at University of Houston-Downtown, Robertson Auditorium (201 Girard St., 77002) and is open to the public. The summit will be livestreamed on NBCNews.com/LearnHouston and on KPRC Channel 2.
NBC News Learn, the education division of NBC News, is convening school leaders, teachers, parents, students, policymakers and community members for a live discussion on vital education issues impacting students.
The live broadcast will be an opportunity to hear Dr. Lathan discuss, on a national platform, her strategic priorities, the state of the district, and the Texas Education Agency (TEA). The discussion will be led by NBC Correspondent Rehema Ellis.
Principal Khalilah Campbell-Rhone of Worthing High School and HISD Chief of Strategy and Innovation Rick Cruz will also join Lathan as panelists. Campbell-Rhone will share her successes at Worthing and school turnaround strategies during the "Path Forward" panel, while Cruz will discuss the district's wraparound services and support for at-risk students as a panelist for the "Learning without Limits" panel.
Participants are also encouraged to join the conversation during the live event using #LearnHouston on Facebook or Twitter. To attend, you must RSVP here.