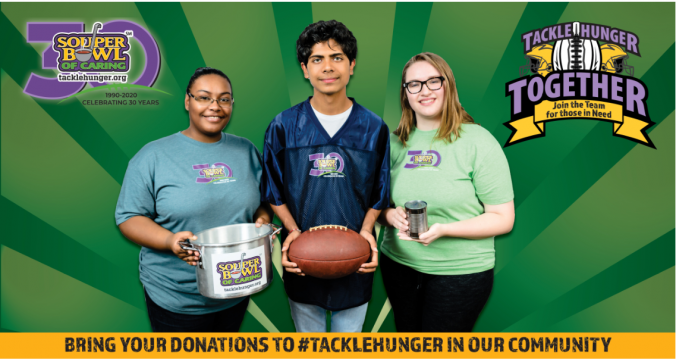 In partnership with Souper Bowl of Caring and the Houston Food Bank, HISD schools and staff are participating in the 2020 Souper Bowl of Caring, a youth-led, national food drive that mobilizes thousands of young people to fight hunger and poverty in their communities
Beginning Jan. 14, one of the nation's largest celebrations of serving and giving will raise awareness and tackle hunger in communities. There are five ways to participate:
Collect food donations between January 14 through February 10.
Bring collection of canned goods to Strategic Partnerships Level 1SE, or drop in the designated boxes located in the main lobby area entrances.
Donate 100 percent of your collection to support our most needy students and families through our Wraparound and Homeless Departments.
Involve your students as volunteers at your local food bank or other hunger-relief charities. For help coordinating, call Houston Food Bank at 713-547-8604.
Report collection results to the Souper Bowl of Caring website: www.tacklehunger.org to be included in the national total, which is over $10 million every year.
The food drive donations collected at Hattie Mae White (4400 West 18th St., 77092) will benefit two HISD programs: The HISD Homeless Office and Wraparound services food pantries.