The Houston Independent School District has launched a redesigned website to provide more accessibility and improved navigation for all users.
The redesign, which retains its mobile-friendly format, is a reflection of the district's commitment to making the information on its website accessible to individuals with disabilities in compliance with the requirements of Section 504 of the Rehabilitation Act of 1973 and Title II of the Americans with Disabilities Act of 1990.
"As a district, we want to ensure all stakeholders have equal and equitable access to the information and data shared through our website," said HISD Interim Superintendent Grenita Lathan. "Our website is an important vehicle of communication, and it is vital that we provide easy navigation for the millions of visitors we receive each year."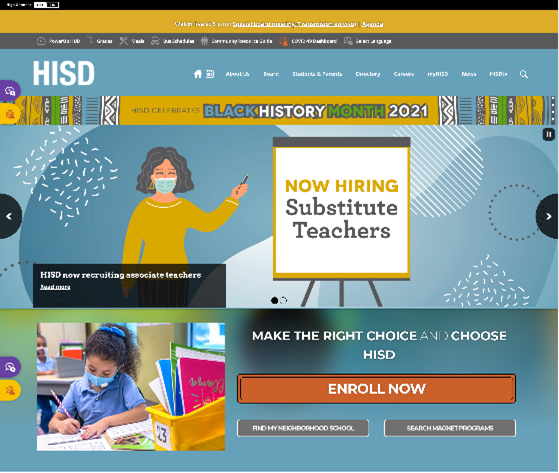 The district's website is designed to ensure that people with disabilities can effectively access, understand, navigate, and interact. To ensure compliance, the new website was built according to Web Content Accessibility Guidelines (WCAG) 2.0, Level AA.
The new website, as well as school websites, incorporates videos that are closed captioned through YouTube for language selection and hearing impaired users, as well as color contrast controls and edits that make navigation easier for the visually impaired. For physically impaired users, keyboard navigation has been updated. And for users with learning and cognitive disabilities, a pause button has been added to all website carousels.
"Our website platform is one of several tools we utilize to provide crucial information to our community," said HISD Chief Communications Officer Rebecca Suarez. "We are committed to increase accessibility and be able to reach and connect with all our stakeholders."
To measure progress in making online content and functionality accessible, the district has used online tools such as the WAVE Web Accessibility Evaluation Tool and Blackboard's Ally plug-in to measure progress on improving accessibility across HISD and school websites.
In addition to the main website's redesign, HISD webmasters districtwide have received training over the past year on the importance of website accessibility and have received resources on building and maintaining accessibility for department and campus websites.
Visitors who may experience difficulty accessing information on the HISD website should email web@houstonisd.org. When requesting assistance via email, please include "Accessibility" in the subject line. Also include the following with regard to accessibility issues:
A description of your accessibility concern.
The best way to contact you (email address, phone number, or both).
HISD will make appropriate accommodations to facilitate access to any website content.