District seeking project proposals from educators that boost student achievement
In March 2020, COVID-19 gave rise to unprecedented challenges affecting every sector of the U.S. economy, and education was no exception. There was no roadmap, no course you could take to figure out what to do. Everything was uncertain.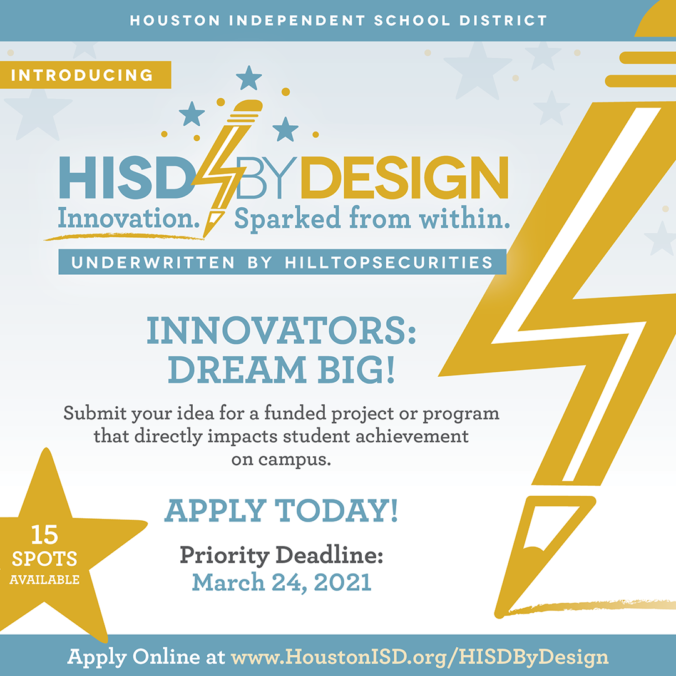 Through it all, however, educators have continued to show what they are made of. Teachers and teacher leaders quickly transformed their classrooms from in-person to virtual, became masters of blended learning, and used their creativity to ensure that every child received a high quality education.
In the spirit of innovation, HISD is accepting proposals for HISD By Design, a new program aimed at funding a cohort of innovative projects and programs from educators that directly impacts student achievement.
"Teachers and teacher leaders have ideas that could transform the way we operate," said William Solomon, senior manager of Innovative Projects. "HISD By Design is mobilizing those ideas by providing those accepted with funding, access to mentors at the leadership level, and most importantly, the development of their business knowledge and skills."
The district will review all submissions, selecting the ideas, projects, or programs that best support student needs. Teachers and teacher leaders selected will be equipped with the business knowledge and acumen needed to bring their ideas from conception to execution, including crafting a complete business plan. In addition, those who are accepted will be paired with a senior district leader for mentorship and guidance. For more information, see this flyer.
The application deadline is Wednesday, March 24, 2021, at 11:59 p.m.
Informational webinars will be held on Tuesday, Feb. 16, and Tuesday, March 9, at 6 p.m.
To learn more about HISD By Design, visit HoustonISD.org/HISDByDesign.
---
[BSM1]Link to PDF of flyer attached