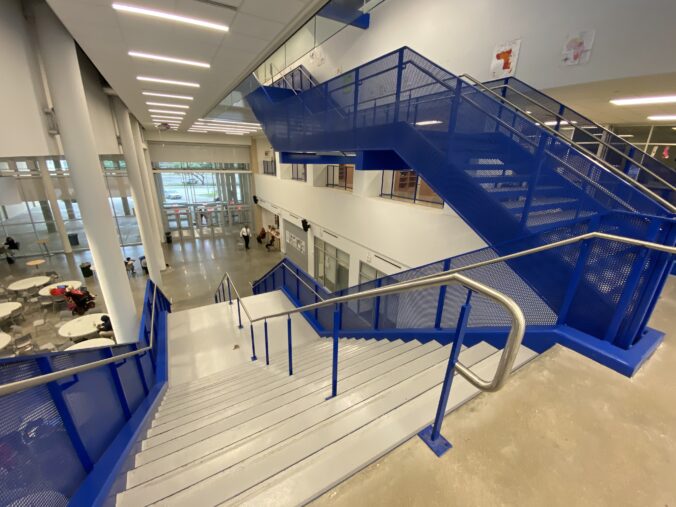 The newly built Lamar High School was named the winner of the Houston Business Journal 2021 Landmark Awards for Education.
The annual awards program recognizes outstanding real estate projects that make a significant impact on the Houston landscape and help sculpt the look, feel, and image of the city.
At Lamar, judges scored the project on innovative interiors, best use of land, visual plan, and being environmentally friendly.
"I'm so proud of the new Lamar High School, Construction Services, and our talented project team that brought this vision for this school to life," HISD Interim Superintendent Dr. Grenita Lathan said. "Thanks to the Houston Business Journal for this prestigious honor."
Built under the 2012 Bond program, the Lamar campus includes a new 300,000-square-foot facility and historical renovation of its architecturally significant original building. A sky bridge links the two buildings.
Lamar was among three projects — including HISD's Barbara Jordan Career Center — named in March as finalists in the education category.
Kinder High School for Performing and Visual Arts, also part of the 2012 Bond Program, won the same category in 2019.
Construction Services Facilities Design General Manager Dan Bankhead said the project team was proud to have been a part of the project, which called for the reimaging of an 80-year-old art deco Houston landmark into a 21st century state-of-the-art learning center.
"We are so proud to support excellence in education at HISD," Bankhead said. "Planning, designing, and constructing exceptional learning environments for students is reflected at all our schools, especially Lamar High School."
Follow @Build_HISD on Twitter for the latest updates on the 2012 Bond Program and school construction across the district.