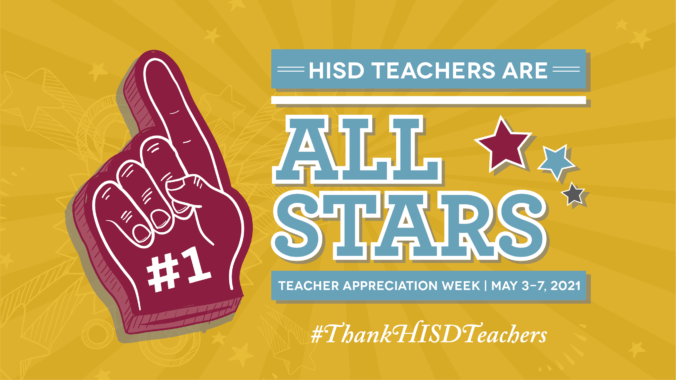 As Teacher Appreciation Week comes to a close, we are spotlighting some of the best teachers in HISD, chosen by you! There were many submissions to the online form, with a wide range of teachers from campuses across the district.
Below, you can find the teachers submitted by students, their parents, and fellow educators. For more teacher spotlights, follow us on Twitter and Facebook.
Atherton Elementary
Sherry Franklin, submitted by LaChesca Washington and Reagan Anderson: "She is sweet, kind, and always making sure that she goes above and beyond to ensure we all fully understand the lessons that are taught."
Tamara Rivers, submitted by LaChesca Washington and Royce Anderson: "She believes in her students and shows them each day by simply being there and helping the kids use their passions and their strengths by making the world better."
Austin High School
Terrance Mackey, submitted by Evert Hernandez Diaz Angela Kennedy-Wright: "Mr. Mackey goes beyond the call of duty on a daily basis. He is consistently working hard to create experiences that will be impactful to the students both inside and outside of the classroom. He collaborates with teachers and personnel throughout the entire school to make things happen for our students."
Baker Montessori
Liecel Roa, submitted by Anthony Martinez: "Dear teacher, my beloved teacher. Thank you for your patience and understanding the whole year through."
Bastian Elementary
Maireni Romero, submitted by Sergio Don, "Because in spite of all we're going through, she works hard to teach us every day."
Baylor College of Medicine Biotech Academy at Rusk
Bonnie Arango, submitted by Aisha Bibi: "She is always helping me and taking that extra time to help every individual student understand. She makes class fun by asking us if we have a related story. Then, our whole class is able to share their stories."
Bonnie Arango, submitted by Arianna Jimenez: "She is the smartest and kindest person I have met."
Kimberly Brown, submitted by Joely Santos: "She always believes in me and always has been there since the beginning."
Abigail Fenz, submitted by Victoria Torres: "She's always positive and very helpful to students and is an amazing teacher. She always tries her best and that's what makes her the best."
Kaitlyn Nowak, submitted by Nevay Vasquez: "She's funny."
DKecia Tolbert, submitted by Alina Montelongo: "Something that makes Ms. Tolbert special is her just being on my team no matter what. She checks up on me in class and even in the hallways if she sees me!"
Briargrove Elementary
Elly Ann Courtney, submitted by Takako Kojima: "Her lesson is always fun. My daughter has learned so many things from her, even during virtual."
Briscoe Elementary
Leticia Sifuentes, submitted by Daniel Hernandez: "She is so innovative and has a passion for teaching. She is collaborative, data driven and always focuses on the students' needs above all else."
Burrus Elementary
Martha Starghill, submitted by Ty: "Mrs. Starghill has been willing, since the beginning of the pandemic, to go the extra mile for her students. She made sure they had what they needed to learn and was willing to drive to virtual students' homes to provide them whatever tool they needed to be equipped to learn this difficult year. She made the virtual students feel just as they were in class."
Bush Elementary
Sandra Carlin, submitted by Aanya Boddu: "She teaches math and science in a fun way and she is very kind."
Cook Elementary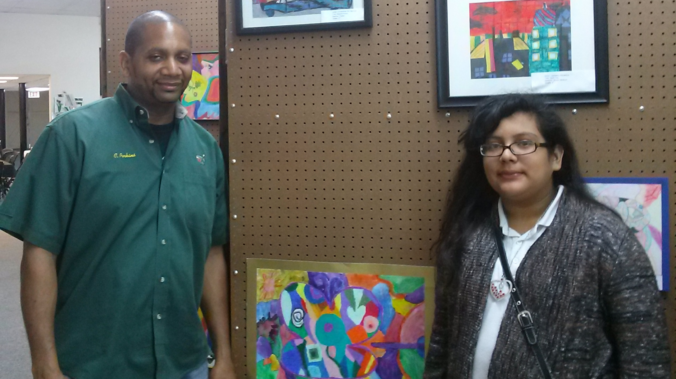 Chris Perkins, submitted by Alejandra Rodriguez: "Mr. Perkins' art program sparked the creativity that I had within me. Before this, I never had an opportunity to express my ideas or creativity on paper. Taking a role as the art club president gave me the ability to take charge and make decisions that would benefit everyone. Mr. Perkins inspired me, pushed me, and believed in me since I was in 3rd grade. Without this experience, I probably wouldn't have been graduating top of my class from Kashmere High School with a scholarship."
Cornelius Elementary
Mariana Fuentes, submitted by Hasary Aguilar: "Mrs. Fuentes is special to me because I've learned a lot this year. She knows how to explain things when a subject's challenging to me. She's loving and patient."
Crespo Elementary
Fernando Grimaldo, submitted by Ghislaine: "He has shown me a lot of things, for example respect others. And, of course, reading!"
Melisa Soto, submitted by Abigail: "That she respects me and that she's grateful and she's kind."
Crockett Elementary
Evelyn Rodriguez, submitted by Arjun Teddy Mogulla: "She is always happy and smiling, always encourages me to learn things and appreciates all the effort."
Daily Elementary
Marisa Boyle, submitted by Makenzie: "Ms. Boyle was a good, fun teacher."
East Early College High School
Megan Bill, submitted by Hector Montero: "She is a very chill and cool teacher and finds ways to make learning less boring."
Stephen Lassiter, submitted by Amaris Aguirre: "He is very kind, passionate about his job, and is a thoughtful person."
Energized for Excellence Academy, Inc.
Christopher Cabalse, submitted by David Avelar: "He lets us join in interactive games that involve strategic thinking that really catches our attention."
Also submitted by Julio Villanueva
Furr High School
Carolyn Jackson, submitted by Viviana: "She helps us keep our work up."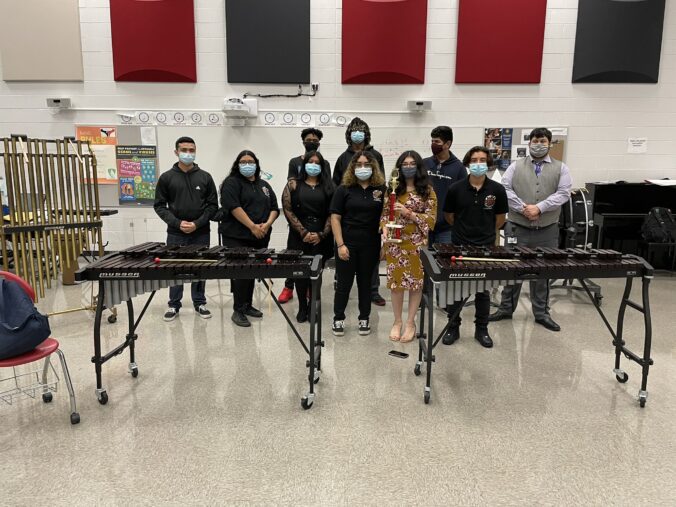 Michael Johnson, submitted by Katherine Flores: "Despite all the hardships we've faced with the band program, he always finds a way to make it work and make us feel proud of all accomplishments we've made."
Emily Lee, submitted by Dalyne Callejas: "She is special because she has always helped us, her students. She always goes over work we did not understand and makes sure that everyone is on track."
Also submitted by Norma Diaz and Ashley Cardenas
Rafeeq Mohammad, submitted by Keyara Hill: "He makes his students laugh, and smile. Encouraging them to be the best."
Merriah Wilhite, submitted by Abigail: "She's a really good adviser and listener, always seeking for her students to be good and stay on track at all times."
Grissom Elementary
Breanne Card, submitted by Judith Chavez: "She teach me math, and teach me math problems. And she has a helper to help me on area and perimeter."
Also submitted by Alexia Acosta, Jasiah Charles, Quijada, and Zariyah
Bethany Wiles, submitted by Cassie Phillips: "My teacher is special to me because she knows how to put the fun in work. She is also nice, has patience, and is always there when you need her with a listening ear. She is truly the best teacher ever. I am so lucky to have her as my teacher this year."
Also submitted by Wisdom Azuike, Anila Banks, Brianna Castillo, Malaya Claverie, Bianca Cruz, Alison Gonzalez, Kai Hicks, Juan, Judith, Aaliyah Nelson, Katerin Perez, Dayana Rivera, Nylah Roper, Jeremiah Thompson, Kialey Walker, Laderion Williams, and Zariyah
Hamilton Middle School
Guadalupe Aguilera, submitted by Adrian Diaz: "She is so kind and is so helping. She also teaches very well and I'm able to understand the work because she makes it easier. She is the best!"
Also submitted by Dillon, Aidan McQuaig, Bruno Reyes, and Alejandro Santillan
Harvard Elementary
Raleigh Fitzpatrick, submitted by Vanessa Nieto-Gomez: "Ms. Fitzpatrick tried to make a difference in the school day for everyone – administrators, teacher colleagues and students. She met the virtual challenge by becoming a certified Google Educator and shared many strategies to engage students in learning while they worked virtually online. Ms. Fitzpatrick also worked to equip teachers with tools to address social and emotional learning."
Heather Moore, submitted by Monique Mahler : "Ms. Moore has shown incredible grace, kindness, and patience this year. She is truly excited about teaching the children and celebrates with them when they "get it." We couldn't have asked for better first grade teacher, or a teacher during COVID."
Henderson J P Elementary
Elena Sosa, submitted by Raúl Posada: "Mrs. Sosa has been tireless in her pursuit to maintain the highest academic standards in spite of the havoc wreaked by the COVID 19 pandemic. My daughter has not missed a beat because of her. Mrs. Sosa has my vote as the MVP for her leadership, talent, and guidance she had provided in very trying times!"
Herod Elementary
Marcella Melancon, submitted by Jack Collette: "We are so thrilled that Jack had Ms. Melancon for his first year of kindergarten, and we just don't have enough words to express how much she poured her heart and soul into her classroom. On top of the challenges of the pandemic, Ms. Melancon dealt with unexpected personal challenges, including health issues and a flooded home after the winter freeze. Yet each day, and even on the toughest days, she brought joy, kindness, patience and love to her class. Jack has learned so much this year and could not have done so without her."
Sam Houston Math, Science, and Technology Center High School
Jorge Gomez Castro, submitted by Cheyly Aguilar: "What makes my teacher so special is that since the beginning of the school year he's always cheered us up. He's not just like a teacher, he's like a friend too. I know I can always count on him.
Quinteros Osman, submitted by Dakota Chavez: "My teacher is special because he listens to my personal problems and is very open minded and understanding. He shares his own experience and makes me feel like i have someone there for me."
Kinder High School for the Performing and Visual Arts
Khoa Pham, submitted by Christina Vo: "He makes sure that every student understands the materials before he moves forward to another new concepts. He is a truly caring teacher. He also has a good sense of humor and makes the students feels very at ease and comfortable to learn. No stress in his class."
Jones Futures Academy
Jay Arnold, submitted by Daisy: "He's always there for us and he doesn't give up on explaining us anything that we need help on. Best teacher in senior year."
Meghan Billiot, submitted by Reagan Brown: "She is funny and gives us whatever we need to be successful. I know if I need anything I can ask her."
Also submitted by Milagros Martinez
Denee Carpe, submitted by Velia Gonzalez: "She is amazing and comprehensive."
April Coleman, submitted by Jada Johnson: "I like how she's always enthusiastic when talking to us online and in-person. I look forward to going to her class every other day."
Gretchen Pearce, submitted by Cynthia Rivas: "She always makes sure to check up on me."
Alexander Santos, submitted by Tiara Farrier: "He brings out the creative in me."
Manuel Umanzor, submitted by Brisa Arroyo: "He helped me when I didn't understand. He was patient and calm. He was nice to the students."
Kolter Elementary
Lexandra Norris, submitted by Chelsea Curtley: "My daughter attends Kolter and is in Ms. Norris' Kindergarten class. Ms. Norris' is the sweetest teacher I have ever met. She keeps the parents informed on a weekly basis about what has happened in the past week and what is to come. She is quick with responding to emails, whether it be a simple question or a big concern. My daughter absolutely loves her!"
Lockhart Elementary
Antonia Adams, submitted by Navella Richard: "Ms. Adams is a wonderful person that loves our little Pre-K learners. She created a special partnership with our family (and I'm sure others), with shared support and lots of love."
Marshall Middle School
Terrill Davis, submitted by Jose Garcia: "I know that he isn't about spreading negativity. He tries to help out the best he can."
Also submitted by Kennedy Williams
Sunni King, submitted by Valerie Gonzales: "Her personality is real. She is very understanding and willing to help us succeed in any kind of way."
Samantha Martin, submitted by Oscar Quijano: "My teacher is so kind to me and the other classmates. She was a good teacher and thanks to her I passed my class. To this day I am thankful for having an awesome teacher."
Emilio Medina, submitted by Samuel Esparza: "Thank you for having an after-school gaming club!"
Jessica Montes, submitted by Jonatan Hernandez: "She helps you in your work and she is a good teacher."
Diana Polanco, submitted by Celia Salazar: "I feel very comfortable when I'm around her. She makes me feel like I can talk to her about anything. I enjoy her class the most because I like the way she teaches us about anything, she makes it enjoyable."
Also submitted by Giovanni Jimenez, Sarai Limon, Jaylynn Lopez, Daniel Mata, Diana Maldonado, Mario Martinez, Amya Medina, Iram Mendez, Zara Portes, Manuel Rivera, and Jerald Sellers
Timothy Pyles, submitted by Marcus Reyes: "What makes Mr. Pyles special to me is because how he teaches his art class by showing and describing how to do the lesson."
Also submitted by Rosalino Gutierrez and Nathaly Mejia
Sheera Winn, submitted by Iram Mendez: "She makes me feel like I'm her friend, not just a student."
Also submitted by Quinise Gilbert, Jorge, Sarai Limon, Sayuri Maldonado, Amya Medina, Nathaly Mejia, and Anthony Zamora
Middle College at HCC Fraga
Jack Maples, submitted by Jonathan Humphrey: "Mr. Maples goes the extra mile by providing Saturday review. He also makes the lesson easy to learn by providing and little slide show. It is really useful and helps me feel like I'm learning and retaining the information."
Also submitted by Jose Victorino
Northside High School
Sara Fox, submitted by Leslie Ramos: "Ms. Fox is such a kind person. She constantly tries her best to make the online classes easier for everyone."
Janine McCollin, submitted by Leslie Ramos: "Ms. McCollin always tries her best in the class, even in this difficult time of online school."
Sonia Noyola, submitted by Jesus Galvan: "She cares so much about her students. She truly cares if we pass and pushes us to do our best."
Francisco Rodriguez , submitted by Angel: "I think this teacher is special because he has the dedication."
Jessica Ronnau, submitted by Desiray Rios: "She's always available to help when need. Takes the time to explain every little detail about her lessons without losing our attention!"
Also submitted by Paz Alexander, Dayana, Lexie de la Fuente, Hailey Guadiana, Sharon Jimenez, Kairey, Daniela Martinez, Karen Martinez, Jennifer Estrada Perez, Leslie Ramos, Sebastian Rodriguez, Paulina Tello, Jennifer Torres
Shilpa Sarang, submitted by Natalie Cantero: "Ms. Sarang helps us to continue to do our work and make sure we pass every single thing. If we don't understand something, she will be on a Teams call for hours with you until you understand it."
James Woods, submitted by Virginia Requena: "He is probably the best teacher I've ever had. He tries his best to motivate me and helps me strive for greatness."
The Rice School
Cassidy McFarland, submitted by Kathrine Hernandez: "Mrs. McFarland is extremely nice. She always is available anytime of day to answer any questions."
Harper Thomas, submitted by Daniela R Hernandez: "He is super nice and understands if you have a problem."
Roberts Elementary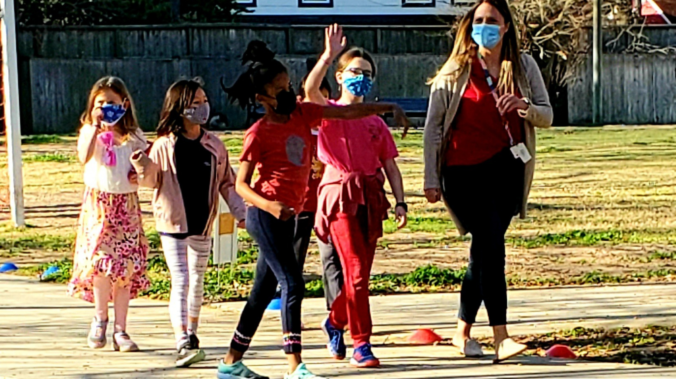 Ashley Barham , submitted by Madeline Williams: "I love Miss Barham because she is the most kind-hearted teacher, just try to change my mind! Ms. Barham always makes the boringest things fun and interesting."
Chelsea Miller, submitted by Alejandro Perez: "She reads a lot of books to us and helps me to go to my next grade."
Kayla Proch, submitted by Alejandro Perez: "She is very nice! She allows us to play fun games!"
Also submitted by Vihaan Shahji
Julie Warner, submitted by Julie Kuzin: "Ms. Warner is outstanding! She has bottomless energy and patience with her kindergarteners! I am repeatedly amazed at her ability to engage them in fun and constructive ways. My daughter is in Ms. Warner's class and she adores her teacher. Madeline has been a severely shy child and this year she is flourishing!"
Kelly Woods, submitted by Alejandro Perez: "She helped me go to 2nd and 3rd grade. She is a very nice person."
School at St George Place
Victoria Sanchez, submitted by Ovi Shastri: "Ms. Victoria does good activities."
Tanglewood Middle School
Christina Rodriguez, submitted by Monica Narvaez: "Mrs. Rodriguez goes above and beyond for her students. She makes her lessons fun and engaging to increase student achievement. Mrs. Rodriguez has put countless hours into preparing her lessons for virtual and in-person students. Students enjoy her Spanish class and always send thank you emails for her time and effort. In addition to teaching, Mrs. Rodriguez is a team player and always gives 100% to her team, campus, and students."
Twain Elementary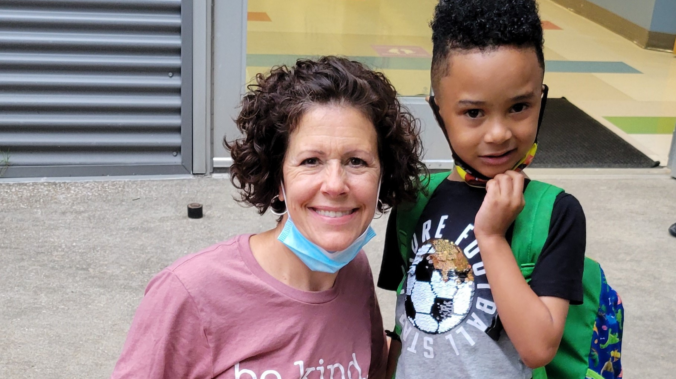 Shelley Rota, submitted by Julian Aparicio: "Ms. Rota goes above and beyond to not only make my son enjoy school, but she has that light for all her students! She is so engaging, supportive, and enthusiastic about teaching the little ones in Kindergarten."
Wharton K-8 Dual Language
Amber Pardo, submitted by Alan Moser: "Ms. Pardo helps us all learn and is nice to the whole class."
Mark White Elementary School
Elyssa Holmes, submitted by Aicha Khathothi: "I feel comfortable with her. I understand quickly because she explains well."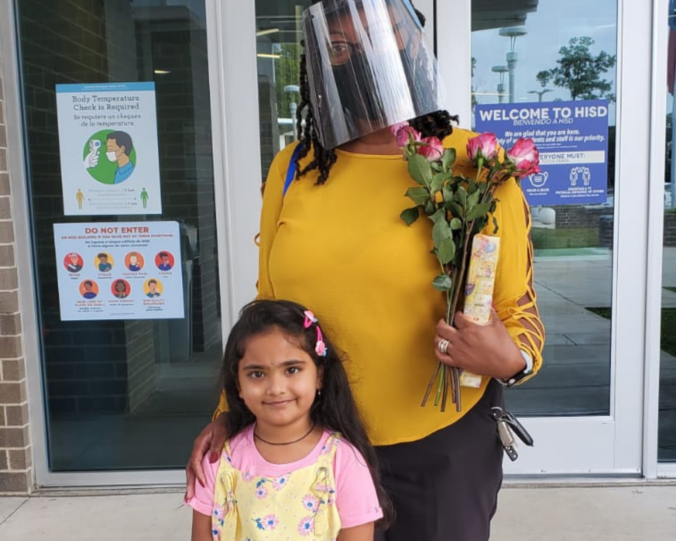 Amber Peterson, submitted by Saanvi Sri Satti: "She is amazing in her own teaching style and supports a lot. She has a passion for teaching and teaching style and lot of patience in teaching and caring for the students."
Wisdom High School
Ana Guerrero, submitted by Asleye Posadas: "She is a good teacher. I like when he takes time to explain to me what to do."
Kayley Hendrix, submitted by Misbah: "She's nice and she explain things very well. She understands me and she always gives me time for my work."
Stephanie Musso, submitted by Jose Cerritos: "That she teaches us well and is funny. When I don't understand, she explains to me until I understand."
Yates High School
Shane Coffey, submitted by LaNyecia Powell: "He gives his students enough time to finish our work. If we need help with any work he is always there to help us."
Phillip Wade, submitted by Dwayne: "What makes my teacher special is that he get things done. He teaches his students about things that happen in the real world, like how to dress at a job interview and how to speak, or to always have a resume."
Young Elementary
Kendra Tillman, submitted by Brittnay Austin: "She goes above and beyond for ALL of our babies. Late nights and lots of money later, she remains dedicated!"