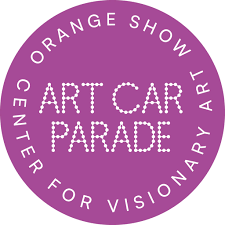 One of the most beloved and well-known events in the city of Houston is the annual Houston Art Car Parade. Started by a commune of local artists in the 1980s, the Art Car Parade has evolved into a city-wide project representative of the creativity and joie de vivre of the Bayou City and has drawn in participants from all walks of life and of all ages.
The 36th Annual Art Car Parade will take place on Saturday, April 15, from 12 p.m. to 4 p.m. The largest celebration of its kind, the parade will feature more than 250 vehicle works of art constructed by HISD students and staff, professional organizations, youth groups, and other creative Houstonian artists. The parade begins at Allen Parkway and Bagby Street and ends at Allen Parkway and Taft Street.
Twenty-one HISD campuses will participate this year to create unique art cars, working vehicles that are decorated around themes devised by students and instructors including a tribute to blues rocker Stevie Ray Vaughn and a car inspired by Black Panther: Wakanda Forever. Visual arts specialists work closely with the campuses in supporting design ideas and providing professional development for instructors so they can help their students bring their art car visions to life.
The Art Car Parade is much more than just a fun art project for HISD students.
"By participating in these community events, [students] develop a greater sense of pride in themselves, their schools and their immediate community," said Visual Arts Curriculum Specialist Rickey F. Polidore Jr. "They learn to appreciate the freedom of expression a project of this nature provides. Most importantly, they gain a greater sense of self."
HISD students and campuses are participating in several other exciting art car-centric events the weekend of the parade. The Main Street Drag is a city-wide tour that will bring the art cars to community members who might not be able to attend the parade itself.
Metal artist and children's book author Rae Ripple will be holding Artist Talks at three HISD campuses on Friday, April 14, and Northside High School art teacher Anna Bass, this year's recipient of the Orange Show's Visionary Art Teacher of the Year Award, will be honored throughout the weekend's festivities. On Sunday, April 16, winning car creations will be named at the awards ceremony at The Orange Show.
Main Street Drag Locations
Harvard Elementary
Osborne Elementary
Love Elementary
Horn Elementary
Lovett Elementary
Kolter Elementary
River Oaks Elementary
Hogg Middle School
Northside High School
Kashmere Gardens Elementary
Southmayd Elementary
Gallegos Elementary
Davila Elementary
Sanchez Elementary
Deady Middle School
Rae Ripple Art Talks
April 14, 2023
Eastwood Academy
9 a.m.
Houston School for Performing and Visual Arts
10:30 a.m.
Martinez Elementary
2 p.m.
Participating HISD Schools
Heights High School
Harvard Elementary School
Crockett Elementary School
Northside Night School
Baylor College of Medicine Academy at Ryan Middle School
Carnegie Vanguard High School
Osborne Elementary
Garden Oaks Montessori
Horn Elementary
Eastwood Academy
Heights High School
Kolter Elementary
Condit Elementary
Lovett Elementary
Wharton Dual Language Academy
Black Middle School
Kashmere Gardens Elementary