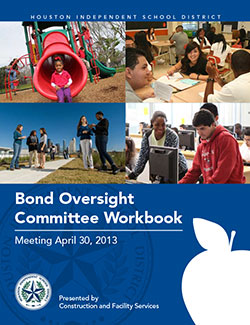 HISD's Bond Oversight Committee heard a detailed update on the district's 2012 and 2007 bond programs during its inaugural quarterly meeting on Tuesday that included the latest steps in planning, renovating and building dozens of schools across the district.
The independent committee was established to monitor the district's bond programs, which includes ensuring that bond revenues are spent appropriately and evaluating the risks and controls of the bond program.
The district recently reorganized the group's charter to give it more oversight responsibility, via independent and periodic reports to the superintendent, the Board of Education and the general public.
"I'm really preparing HISD schools for my daughter," said committee member Jessica Diaz, a community volunteer and parent of a 2-year-old, explaining her interest in being on the committee.
Diaz is one of nine members selected by the superintendent to serve on the committee, which will meet quarterly.  The other members are:
Michael G. Davis, real estate broker, HISD parent
Martin Debrovner, community volunteer and retired executive
Robert M. Eury, community development and nonprofit executive
D.V. "Sonny" Flores, engineering and construction management
Craig Johnson, education advocate and HISD parent
David J. Quan, attorney, and member of HISD's Asian Advisory Committee and Superintendent's Parent Advisory Committee
Phoebe Tudor, community volunteer, philanthropist, and historic preservationist, HISD parent
Gary J. White, certified public accountant, HISD parent
The committee heard from HISD administration and staff, who gave an overview of some key aspects of both programs. For 2007, the district is still on schedule to complete all work by the end of 2014 in a program that has included more than 180 projects, including 23 new schools. Three of those schools are currently under construction with two are scheduled to open for students in the fall.  Much of the work in the 2007 bond was to address critical infrastructure needs in schools throughout the district.
With the 2012 bond program, HISD will be building or renovating 40 schools, many of which will be completely new facilities.
Sue Robertson, HISD's general manager of Facilities Planning, said the goal is to create buildings that support 21st century learning, with flexible spaces that encourage collaboration and hands-on learning.
The district also has allocated $100 million for technology upgrades.
Robertson emphasized the importance of involving the community throughout the planning, design and construction process, including Project Advisory Teams set up at each bond campus.
Although both bond programs are different, committee members learned they share some common goals, including building schools that are environmentally sustainable and maximizing the use of Houston's diverse workforce by encouraging minority- and women-owned business enterprises (M/WBEs) to bid on projects.
In the 2007 program, the M/WBE commitment from all firms has reached nearly 34 percent. In the 2012 program, the contracts awarded to date reflect a 51 percent M/WBE commitment.
Chief Operating Officer Leo Bobadilla said the district continues to be committed to delivering both programs in a transparent manner.
The next meeting, scheduled for July 30, will come as the district is undertaking summer work for 2007 bond projects, organizing community meetings for the first group of 2012 bond projects, and working with individual campuses and architects on design and sustainability issues.