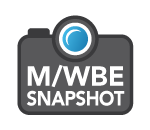 Editor's note: This is the third in an occasional series of profiles on minority or women-owned companies that do business with HISD. The district's minimum M/WBE goal levels are 20 percent for all levels of purchasing and construction, and 25 percent for professional services. In the 2007 bond program, that commitment reached nearly 34 percent. In the 2012 program, the contracts awarded to date reflect a nearly 51 percent M/WBE commitment.
Name of business: The Urban Circle DBA, The Green Apple
Headquarters: 7505 South Freeway, Suite D Houston, TX
Number of employees: 4
Years in business: 9
Answering the questions: Brown Henderson, general manager
Q. What is the primary purpose of your business?
A. Creating Circles of Expression through the use of promotional Items and teaching supplies that will meet the "total needs" of our customers.
Q. What is the business background of the owners?
A. The business started in promotional advertising in 2004. We have been servicing state, retail and city entities for nearly 10 years.
Q. Why did you start this particular business?
A. We started this business to solve a problem in the industry. Eager to grow the business, we saw a need for one-stop shopping for our customers. Our customers would go to two stores and have to keep up with their order from many locations. The Urban Circle takes the stress and allows for them to buy promotional items and teaching supplies from one location. On that note, we will be opening a new location (7505D Holly Hall Houston, TX 77021) for teachers, parents and secretaries to come shop from 10 a.m. to noon on Aug. 5. Come check it out!
Q. What makes your business unique?
A. We are unique in many ways:
• We are just not your regular teaching store – we provide a service that tutors kids and assists them with critical-thinking skills.
• We accept small minimum orders.
• We focus on critical thinking – we carry everything from critical-thinking games to testing materials.
• We provide one-stop shopping for promotional items and educational supplies.
Q. What do you enjoy most about your chosen profession?
A. I enjoy the challenge of providing excellent customer service each day to every customer.
Q. What has been the biggest or most interesting challenge to overcome as a business owner?
A. The most interesting challenge to overcome is balancing my professional and family life, as well as developing relationships with the district.
Q. How did the district's Business Assistance program help you before and after you were awarded a contract?
A. The district's Business Assistance program helped by giving us continued confidence and being available to guide us in the right direction with suggestions and opinions.
Q. What advice would you give M/WBE firms seeking to do business with HISD?
A. The advice I would give is to make every day count toward something.