More than 30 people turned out Tuesday to congratulate small and minority- and women-owned businesses for completing a four-month mentorship program designed to help participants improve business plans and skills.
"We've shared a lot of ideas, and you've been given access to incredible mentors," said HISD Team Lead for Supplier Diversity Bernard Willingham, while speaking at a graduation ceremony for the Interagency Mentor-Protégé Program. "My hope is that you've benefited from this program and that you are a different company and a different company owner."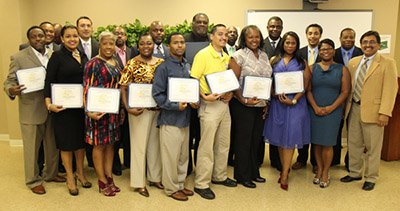 Fourteen businesses graduated from the program sponsored by HISD, the City of Houston, Metro, and the Port of Houston Authority. HISD took part in the collaborative program to help small and minority-owned businesses be better prepared to do business with public entities, including the district. HISD is looking to maximize participation by M/WBE firms in its 2012 bond program, which will build or renovate 40 schools across the city.
The district is already working on developing additional tracks for the Interagency Mentor-Protégé Program to teach businesses how to deliver an effective presentation to contractors who might be looking for subs.
Starting in June, the business protégés in the program received weekly training on financial planning and the request for qualifications (RFQ) process from veteran business executives who volunteered as mentors. The protégés also drafted a RFQ that they were able to adapt to their own business.
"This has allowed me to understand what I may have been doing wrong before when submitting RFQs to prospective clients and how to focus more on what the client is looking for," said Melissa Ellison, director of operations for ServiceMaster Professional Cleaning, a janitorial and commercial cleaning services business that is currently a vendor for HISD. She wants her business to be a contractor for the district, too.
"A lot of doors can open from getting a contract with HISD," Ellison added. "When companies see that you're doing business with a district as large as HISD, they'll know that you're a certified business and serious about the work you do."
Lana Coble, a diversity manager and project executive at Tellepsen Builders, served as a mentor and developed the program's curriculum. She taught the protégés strategic ways to reach business contractors and grow a productive business.
"I hope they have a better sense of confidence in their own brand, delivery and products," Coble said. "They need to be able to quickly demonstrate their worth to prospective clients."
HISD's business assistance office offers various training for small and minority- and women-owned businesses and will host a free workshop on developing joint ventures on Nov. 6. To register to attend, click here.