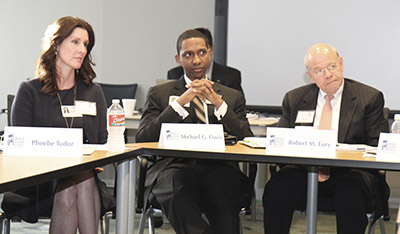 HISD's Bond Oversight Committee met Tuesday to review the 2007 and 2012 bond programs in a gathering that included third quarter updates on finances, schedules, quality control and business outreach.
The nine-member committee meets every three months to monitor the district's bond programs, ensuring that bond revenues are spent appropriately and the risks and controls of the bond program are evaluated.
In any construction program, a key component is making sure general contractors complete the work within schedule, on budget and up to all standards. HISD is holding in-service training for the Construction Manager at Risk firms hired within the 2012 bond program to review district requirements for labor compliance, safety and quality control to minimize any potential problems.
"We want to make sure we see them one on one before they start," said HISD Officer of Construction & Facility Services Robert L. Sands Jr. "We're really going to monitor them."
The 2012 bond program will build or renovate 40 schools across the district, thanks to $1.89 billion in voter-approved funding.
District staff reviewed the steps taken to date to not only ensure quality construction but to maximize community participation. The committee saw a four-minute video that highlighted involvement by students, teachers, parents and neighbors in the planning and design process of the new 2012 bond schools.
Student input is especially critical as the district looks to build 21st century facilities that maximize flexibility and incorporate technology that is always evolving. "They're very much engaged in this process," said HISD Chief Operating Officer Leo Bobadilla.
As the district pushes ahead with the 2012 bond program, it is also finishing up work within the 2007 program. Since the Bond Oversight Committee last met in July, the district opened up two additional new elementary schools – Atherton and Dogan – and is on schedule to open a third in November when students move into Sherman Elementary.
Both bond programs are exceeding district goals for participation by Minority and Women-Owned Business Enterprises, according to Alexis Licata, general manager of the district's Office of Business Assistance. She updated the committee on ongoing efforts to reach out to the business community to ensure they're aware of the opportunities within both building programs.