Teams from each school in HISD's 2012 bond program will get a closer look at furniture designed for 21st century learning environments at a furniture expo on Tuesday, Nov. 5, at Terrell Middle School.
"The purpose of our furniture expo, the first of its kind in HISD, is to encourage and explore the conversation of what does a 21st century learning space look like and how will it be different in 10 years or even 20 years from now," said HISD General Manager for Facilities Planning Sue Robertson.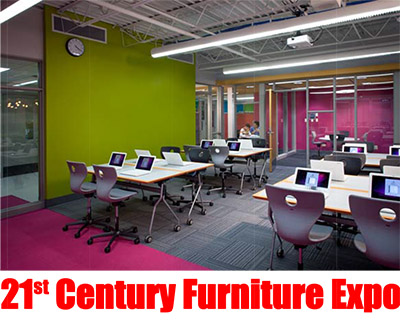 The expo will allow Project Advisory Teams from each school to explore different learning spaces and provide feedback on the furniture to help guide the design for new schools being built and renovated under the district's $1.89 billion bond program. Fifteen exhibitors will create 19 different learning areas, including a media center, throughout a 22,000-square-foot furniture display at the expo. Each learning center will present new ideas on how the spaces enhance learning.
"We are giving the Project Advisory Teams an opportunity to help us identify the best furniture to purchase to complete their vision for their future school," Robertson said.
The PATs will also get a lesson on how bodies in motion lead to brains in motion during a presentation from education researcher Dr. Dieter Breithecker of Wiesbaden, Germany.
Briethecker is scheduled to speak at 8:30 a.m. and 1:30 p.m. on Tuesday.
"Students and faculty spend so much of their day at school that they deserve to have a space that's not only comfortable, fresh and appealing but one that supports the 21st century learning for which the new facilities are being planned," Robertson said.
HISD Furniture Expo
When:  Tuesday, Nov. 5:  8:30 a.m. to 12 p.m. and 1:30 to 5 p.m.
             Limited hours are being held on Wednesday, Nov. 6: 1 p.m. – 8 p.m.
Where: Terrell Middle School, 4610 East Crosstimbers