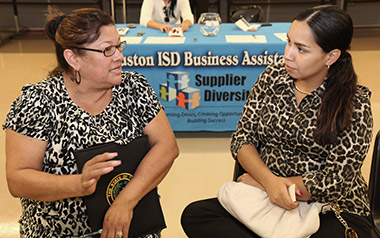 Minority- and women-owned business enterprises on Wednesday learned how merging forces and resources with large companies can lead to a better shot at landing a contract for an HISD building project.
"Smaller companies are not always able to compete against the big guys," said HISD Team Lead for Supplier Diversity Bernard Willingham. "So, we're going to talk about how to compete with them instead."
The monthly workshop held by the district's business assistance office drew 20 people and offered guidance on how M/WBEs interested in working with HISD can better position themselves for district projects.
"We want to build schools," said CMH Construction contractor Chuck Roberts. "We don't have that experience yet, but I want to team up with a prime contractor in order to get that experience."
Forming a joint venture allows for smaller firms to bid as prime contractors and can create additional bonding capacity. Joint ventures also allow for companies to meet the needs of the community while achieving their goals together.
"Ask yourself, 'Do you strategically want to work with a competitor?' " said the event's keynote speaker, Michael J. Martin, a member of the National Association of Minority Contractors and senior diversity manager with the public affairs firm, K Strategies Group. "As they say, if you can't beat them, join them. There's a significant value in bringing together a diverse group of partners."
Martin shared success stories on construction companies that have partnered with smaller businesses to secure contracts for building projects under the district's 2012 bond program, including Balfour Beatty Construction and 3Ci that formed a joint venture with a M/WBE firm, known as B3Ci, to provide the construction manager at risk (CMAR) services for the new Worthing High School.
"When you talk about HISD, we're talking about renovating a gym, building a new wing of a high school, constructing a new school, doing paint jobs and plumbing work," Martin said. "You name it, the HISD (bond program) has something for everyone in this room. It's about being able to merge forces and resources to get a larger piece of the project."