Student can't learn if they're not in class. And in HISD, attendance is getting even more attention as district administrators roll out plans to implement HB 5, the new law passed by the Texas Legislature that revamps graduation, testing and accountability requirements.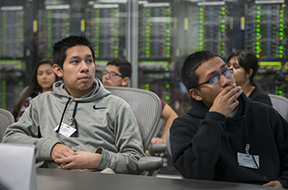 "We've always focused on attendance," said Mark White, HISD's director of School Support Services. "But HB 5 means students who don't come to class will be at greater risk of falling behind or not graduating."
Specifically, under expanded state requirements for school attendance, students who miss too many class sessions receive a grade of "NG," which means that their grade is blocked due to poor attendance.
"It's up to parents to find out from the school right away what corrective steps they and their student might be able to take as they enter the second half of the school year to recover credit or move toward promotion," White said.
Increasing attendance, with positive results
Although the number of required STAAR end-of-course exams has been reduced from 15 to five under HB 5, high school students will still need to get a total of 26 credits to graduate under HISD's recommended plan, which is designed to prepare students for college and careers.
Starting with the 2014-2015 school year, entering ninth-graders will have to select from two graduation paths of varying rigor and will have to choose "endorsements" – areas of academic and career focus – to pursue as part of their graduation plan.
Learn more about how HISD is implementing HB 5
"We want all of our students to be ready for college and careers, and HB 5 is a great way to ensure students are on a path to success," White said. "We know students aren't learning if they aren't in class, so we're making it a priority."
Statistics show there's a lot at stake.
Chronic absenteeism – missing 10 percent or more days a year – leads to a greater chance of that child dropping out of school.
Students with more than 20 absences per year have less than a one-in-five chance of graduating.
By ninth grade, school attendance is a better predictor of graduation than eighth-grade test scores, according to a 2007 study by the University of Chicago.
Students who miss school also impact the entire classroom. Absences are disruptive if the teacher has to slow down learning to help returning students catch up. HISD Attendance Policy states that a student must be in school for at least two hours to be considered present for half a day and four hours to be considered present for a full day.