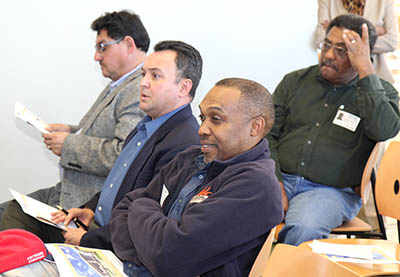 The second bid package for the construction of the new Delmar-Tusa Athletic Complex will include underground and structural concrete site work and will be open for subcontractors to bid on by the end of March. 
"If you meet our pre-qualifications, your references come back great, and you've done similar projects to this magnitude, all of these factors will go into consideration when making our selection of subcontractors," said DivisionOne Construction President Todd Hamby during a meet and greet Thursday at HISD with the firm that was selected as Delmar's Construction Manager at Risk (CMAR). "We want to hire companies that will make this project a success."
About 25 subcontractors attended the event to learn about the project scope of work, compliance guidelines, and ask questions about the subcontractor bidding and selection process.
The Delmar Fieldhouse, located at 2020 Mangum Road, will be replaced under the district's 2012 bond program. The old building, which was 55 years old, was demolished in January. The new 140,000 square-foot, three-story facility is scheduled to be completed by July 2015. The athletic complex, designed by PBK Sports, will feature a 5,000-seat venue with a basketball and volleyball court that can be transformed into an event center with a stage. The facility will also include additional locker rooms, training rooms and athletic storage spaces.
"I refereed basketball games at Delmar for 20 years, so I felt compelled to come and find out more information about this project," said Roscoe Overton of New Choice Builders, a Houston-based commercial drywall company and minority-owned business that plans to bid on site work for this project. "I'm glad it's going to be turned into a state of the art facility."
Site work for the second bid package is expected to begin in April. The third bid package, which will include millwork, acoustical services and landscaping, will open for bids in the summer with work scheduled to start in October.
"This is a big project, and we're hoping we can provide indoor and outdoor LED lighting as a subcontractor for the new facility," said Jenny Bai of LED Inc.
DivisionOne has committed to achieving a 30 percent goal of participation from minority- and women-owned business enterprises (M/WBE) in the project. All M/WBE subcontractors must be certified and provide proof of certification when submitting a bid.
"This is a fast-track project, and we want to make sure the community is aware of what's happening with it," Hamby said. "It's been conveyed to us from the very beginning from HISD and the architects that we want strong M/WBE participation because this building is being funded by taxpayer money and will be for the community's use."
For subcontractor pre-qualifications and bid package requests for information, please email bid@d1construction.com.