The Council of Great City Schools has presented its 2014 Distinguished Service Aw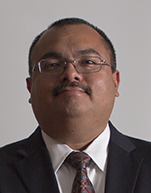 ard to HISD Chief Operating Officer Leo Bobadilla for his dedication to urban education. He received the honor at an awards banquet Wednesday during the council's four-day Chief Operating Officers Conference in New Orleans.
The council, which brings together the nation's largest urban public school systems in an effort to improve the education of urban schoolchildren, awards this honor to school chiefs who demonstrate a personal commitment to leadership, innovation, and professionalism in urban education. This is the eleventh year the award was presented to a school district chief operations officer.
Bobadilla, who joined HISD in 2010, provides leadership to a team of nearly 7,000 HISD employees in transportation, police, food services, business assistance, and construction and facility services. He oversees an annual operating budget of more than $240 million for all business operations areas. He also oversees two district bond programs that total more than $3 billion and a real estate portfolio of more than 30 million square feet.
Bobadilla played a key role in helping HISD pass the biggest bond program in Texas history in 2012, a nearly $2 billion bond package to build new 21st century schools across the district.
"Leo is committed to ensuring all of our operations are handled efficiently," said HISD Superintendent Terry Grier. "But he is more than just a numbers-cruncher. He is one of the most ardent believers in our mission at HISD, which is to boost student achievement, to help all of our youngsters reach their potential. His contributions to HISD reflect the very best of public service, and there is no person more deserving."
Bobadilla received a bachelor's degree in organizational management at Warner Southern College, a master's degree in business administration at Webster University's School of Business and Technology, and a Juris Doctor degree at Florida A&M University's College of Law. He is a certified general contractor and a licensed attorney in the state of Florida. He is also certified as a Leadership in Energy and Environmental Design Accredited Professional (LEED AP), a Project Management Professional (PMP), and a Certified Educational Facilities Planner (CEFP).
With nearly 20 years in the industry, Bobadilla has held various leadership positions in government and private industry successfully overseeing significant organizational improvement plans, strategic initiatives, and program/construction management for major construction projects and programs.