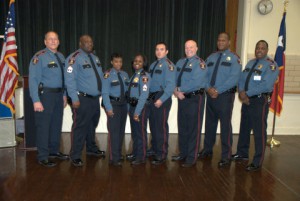 Family, friends and fellow law enforcement personnel gathered at HISD police headquarters on Monday to celebrate the promotion of two sergeants and the swearing-in of six new police officers.
The police department held the ceremony to mark the beginning of a law enforcement career with the district. For some of the new officers, this won't be their first time serving as a police officer and have had prior careers with HPD, Cypress ISD and Spring ISD.
"You have been given a very big responsibility," HISD Police Chief Robert Mock told the new class in front of the crowd of about 100 in attendance. "You are important because you are the first face that someone sees when they have an issue with us."
Each officer took their oath of office in front of a large audience of family members, friends and former law enforcement colleagues before making brief remarks.
"I'm going to make you guys proud, and I know I will," said newly promoted HISD police Sgt. Delisha Keno. "I am you all's reflection."
Keno and Officer Quinten Flannel were both promoted to the rank of sergeant. Six other class members were sworn into the department as police officers: Robert Caylor, Amber Hastings, James Hayes, Johnyale McDaniel, Lucretia Rogers, and Stephen Smith
Mock explained to the group of officers what the HISD police uniform represents, including always doing what's right over what's easy.
"Rank does not confer privilege or give power. It imposes responsibility," Mock said. "I say that to supervisors, and I say that to officers. When you pin on this badge, you're given a responsibility."
Mock wanted his group of officers to understand the importance of their role in the district and encouraged each of them to give back to the community-at-large.
"I promise you'll spend most of your day mentoring, coaching and teaching than you will catching bad guys."