New formula is designed to improve equity across programs
Next week, the HISD Board of Education will vote on a district-wide magnet funding formula that is designed to improve equity across programs and increase transparency in the magnet and specialty program funding process. These changes will be presented to the HISD Board of Education for their consideration on June 19 during a special budget meeting.
The district is not recommending a reduction in the total amount of money it currently provides to HISD magnet and specialty programs in good standing. The district, however, is recommending a change to the way money is distributed among HISD's more than 100 magnet and specialty programs. Under the plan, magnet programs would receive a set amount of money per student, with that dollar amount pre-determined by magnet theme and school level.
Final Funding Formula: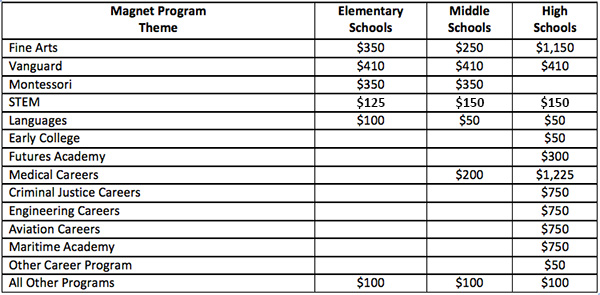 If approved, this new funding structure would be phased in over three years, allowing schools adequate time to plan for any changes in funding. Additionally, the district expects an increase in per-unit allocation (PUA) of $55 per student across all HISD schools — $26 of which was approved in May and an additional $29 which will be proposed next week. With the addition of this one-time PUA increase, all but four magnet and specialty programs will see an increase in their overall school funding for the upcoming school year.
The board also will consider adopting a $1.68 billion budget that includes increasing pay for entry-level teachers, funding the district's literacy initiative, and increasing technology in classrooms.
The Board's special meeting begins at 5 p.m. in the Board auditorium of the Hattie Mae White Educational Support Center (4400 West 18th St., 77092).