New magnet funding formula approved 5 to 4
The Houston Independent School District Board of Education Thursday approved a $1.74 billion budget for the 2014-2015 academic year that addresses the district's key priorities – increasing teacher pay, supporting the implementation of a comprehensive literacy plan and funding required expenditures that will ultimately save the district money in the long term. 
The budget, which was approved with a unanimous vote, includes a $30 million increase for all teacher salaries and will increase pay for entry level teachers from $46,805 to $49,100. The change creates a new salary schedule and eliminates master's and doctoral salary adjustments for new hires. Additionally, all staff – including principals and assistant principals – will receive a three percent pay increase. Both adjustments address the district's ability to stay competitive with neighboring school districts and businesses in the Houston area.
The 2014-2015 budget also includes $1.3 million specifically allotted for professional development efforts focused on helping HISD teachers and administrators become literacy champions for their schools. Another $2.2 million was allocated to purchase a district-wide software licensing plan, a move that will save the district nearly $6 million over the next few years.
Additionally, with the positive change in the district's taxable values, HISD administrators addressed other important district issues including increasing per-student funding level by $29 for the upcoming school year. The board also voted to eliminate the transfer of funds from the district's general fund to the debt service and allocated nearly $13.8 million in additional school funding, which will provide another $57 to the per-student allocation. The total increase will give nearly every HISD campus a larger budget next year and will restore school funding levels back to where they were in 2011 before state budget cuts.
It also offsets any losses created as a result of the district's newly approved magnet funding formula.
The magnet funding proposal, which does not change the district's overall spending on magnet and specialty schools, was approved 5 to 4 with Trustees Juliet Stipeche, Harvin Moore, Michael Lunceford and Anna Eastman in opposition. Under the plan, magnet programs will now receive a set amount of money per student, based on their magnet theme and school level. The funding structure will be phased in over the next three years, allowing schools adequate time to plan for any changes in funding.
Funding Formula:
*per-student allocations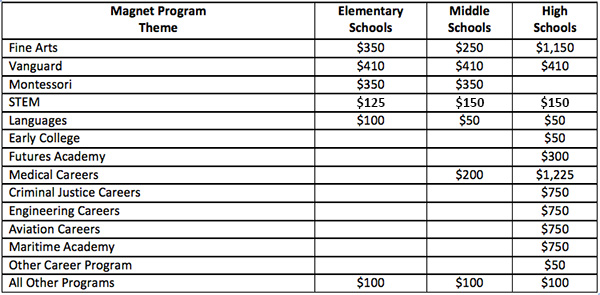 "We have reviewed the funding levels of schools that would see a reduction and are confident that each of these schools will still have ample resources to maintain their excellent magnet programs," HISD Chief Financial Officer Ken Huewitt said.
The Board's special meeting was held at 5 p.m. in the Board auditorium of the Hattie Mae White Educational Support Center (4400 West 18th St., 77092). The full agenda is posted online.